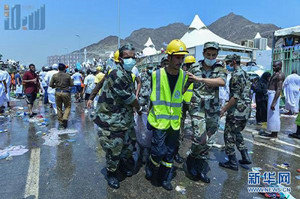 Health workers help the injured in Mina, near Mecca, Saudi Arabia, Sept. 24, 2015. Saudi authorities said the total number of pilgrims killed in the stampede Thursday in Mecca has risen to 717. [Xinhua]
One Chinese national, female, is confirmed to have died in the stampede near Mecca on Thursday.
Hong Lei, spokesperson for the Chinese Ministry of Foreign Affairs, made the announcement on Friday.
"We are saddened by the deadly stampede in Mecca. One Chinese national has died in the accident. We express our condolences to all the victims and their families."
Li Chengwen, the Chinese Ambassador to Saudi Arabia, traveled to Mecca immediately after the tragedy, which has killed more than 700 while injuring around 800.
Li visited local hospitals to determine how many Chinese nationals were affected by the tragedy.
The ambassador said the organizers of the Chinese pilgrimage will enhance security measures to ensure the safety of their team members.
"As a next step, we will devise and implement safety measures to ensure the safety and security of Chinese nationals. We will help them to successfully complete the pilgrimage and to return to China safely."
Following the accident, the Chinese delegation ceased activities during regular hours, rescheduling plans in order to avoid large crowds and high temperatures.
The delegation has also begun monitoring safety conditions near activity sites.
There are 2-million pilgrims taking part in the Hajj's last major rite at the Mina valley near Mecca.
Around 14,000 Chinese nationals have been participating in the pilgrimage this year.
(Source: CRIENGLISH.com)