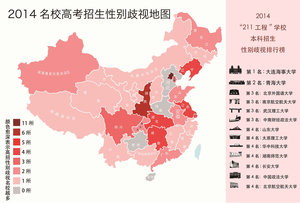 China Higher Education Gender Discrimination Map[Women's Media Monitoring Network]
Women's Media Monitoring Network published the "China Higher Education Gender Discrimination Map" along with a relevant report on October 10. Sixty-six universities in 27 provinces are involved in gender discrimination, among which 11 universities are in Beijing, and 13 universities are on the list of worst gender discrimination universities.
The drafter of the report Li Furui also wrote a letter to the Ministry of Education and the principals of the 13 universities to call for the immediate elimination of gender discrimination in admissions.
According to the report, a total of 72 universities have gender restrictions in admission, accounting for 64% of the total, 8 percent less compared with last year. In this map, the darker the color, the more serious the presence of sex discrimination in college admissions.
In 2013, the Ministry of Education issued the "2013 Universities and Colleges Admissions Regulations", which states: "Apart from the military, defense and public safety and some other special institutions (professional), the university shall place no requirements on the proportion of male and female students admitted." After this, some college admissions canceled gender restrictions.
However, according to the report, military, public security, national defense and national security courses usually have gender restrictions. In addition, sailing, flying, mining and geology courses also have strong gender restrictions; while arts, sports, minority languages and nursing courses also have issues.
At Dalian Maritime University, for example, their marine technology and marine engineering courses only accept male students, with a representative stating: "Due to the special nature of the work, it is not suitable for girls to apply." At Beijing Foreign Studies University, Arabic, Malay and Turkish courses are also only open to males.
Li Furui thinks that not only do lot of schools still fail to comply with regulations, some of the regulations themselves are also debatable. In September 2013, Women's Media Monitoring Network requested the Ministry of Education to release the reason why some college majors are only for men.
In its reply, the Ministry of Education explained why they think the three types of professions listed above are not suitable for women, but the "report" still considered this an example of gender discrimination.
Take national security majors as an example, among the 55 colleges which have the major, women do not exceed 10 percent of the total number of students.
The report also states that many flight schools are not open to women because many airline companies do not accept female pilots. This is gender discrimination. China Civil Aviation University (a non-"211 Project" school) accepts female students for its flying major.

A total of 12 colleges and universities require that in dance, acting, radio hosting, singing, music, sports and other majors that the male to female ratio is 1:1.
The Ministry of Education considers the needs for such professionals in the community and requires a certain gender balance, if not a restricted female ratio, would materially affect educational performance and social benefits.
Meanwhile, the report also referred to Shandong University, including four nursing colleges that only accept women, reflecting traditional gender norms. Men should be free to attend these majors if they wish.
(Source: china.caixin.com/Translated by Women of China)