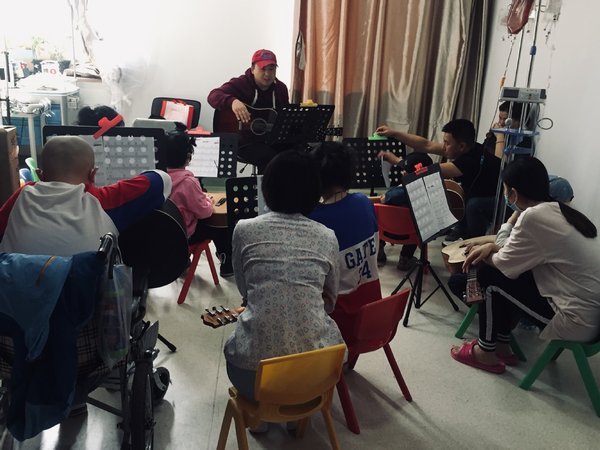 Zhang Yinghao gives a guitar lesson to children and their parents at First Bethune Hospital of Jilin University in Changchun, Jilin Province. [China Daily/Sun Hongyan]
Instructor's Music Lessons Help Dissipate Young Leukemia Patients' Fears of Treatment
Every Tuesday afternoon, ragged guitar music emanates from a classroom in the pediatric hematology department at First Bethune Hospital of Jilin University in Changchun, Jilin Province.
Several children who are patients at the hospital gather in the classroom, converted from a doctors' lounge, to learn from music teacher Zhang Yinghao.
They listen to Zhang carefully and follow his lead, sometimes raising their hands to ask questions. The expressions on their faces exude their love for music.
Zhang, 40, a guitar instructor from Jilin, opened the free class in March to teach children who have leukemia. His 3-year-old daughter was diagnosed with the disease in September, and he spends most of his time accompanying her to chemotherapy sessions at the hospital.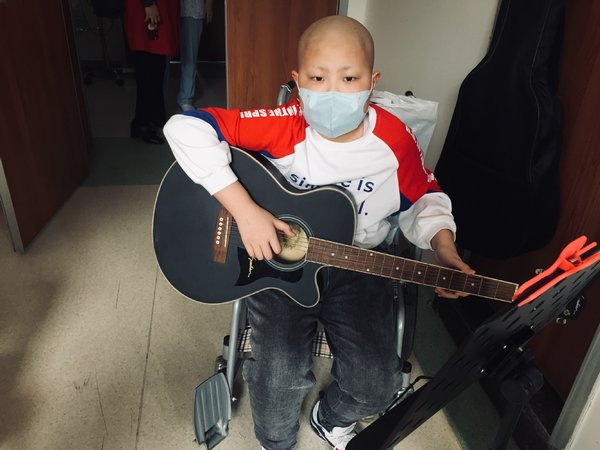 A child who has leukemia plays guitar in Zhang's class. [China Daily/Sun Hongyan]
"When the doctor told me the diagnosis, my world was shattered," he said. "Soon after putting away our sadness, my wife and I chose to be strong to face the difficulty."
To encourage his family members, Zhang often played the guitar, which drew the attention of head nurse Liu Xuehua.
"She asked me whether I could teach sick children to play the guitar, and I replied without any hesitation that I could," he said. "My daughter is growing up with my guitar music and she quite enjoys it. I hope music will bring happiness to the children here and make them feel a little less bored or troubled by their treatment."
To Liu's surprise, Zhang brought six guitars and some teaching aids to the hospital a few days after their conversation.
"His selfless donation touched all the doctors and nurses, so we immediately prepared the lounge for him to teach the class," she said. "It's a small space, but the classroom has become the room the children love most."
Zhang said: "The hospital is one of the best in the province, many young patients and their parents come here for better care. We are all in similar situations and we can clearly understand each other. The hospital seems like a big family in which family members of sick children can exchange information about treatments and find help."
Many parents have been discouraged after being unable to soothe their child's suffering caused by long-term treatments.
"Music is a good way to help children relax and shift their attention," Zhang said.
"Unlike the students I taught before, I have no requirements for their playing skills at all. I just hope my students can be happy during the one-hour lessons."
A child who has leukemia plays guitar in Zhang's class. [China Daily/Sun Hongyan]
Every Tuesday, 7-year-old Yin Chenyang arrives at the hospital on time, even though she was discharged after two years of treatment.
"She is now in stable condition and only needs oral drugs and regular examinations," said her mother, Liu Zhiying.
"However, the previous long-term treatment was upsetting and depressing for her, so when I learned about the guitar class, I asked my daughter to give it a try. After a few lessons, she can play a simple tune and has become more active than before.
"Because of her sickness, she can't go to school and has to avoid public activities. In the class, she can interact with other children and make more friends."
More than 30 children, from ages 3 to 14, have signed up for the lessons.
"The doctor told me that my daughter needed about three years of treatment, so I decided to stay in Changchun and stick to teaching these guitar classes at the hospital," Zhang said. "I also hope to open more classes."
Head nurse Liu said: "We have been looking for various ways to make the sick children happy, such as offering cultural and fine art courses, as well as decorating a wall with building blocks for them. Zhang was a great help.
His lessons not only dissipated the children's fears and worries about the treatments, but have also brought them joy and expectations for the future."
(Source: China Daily)