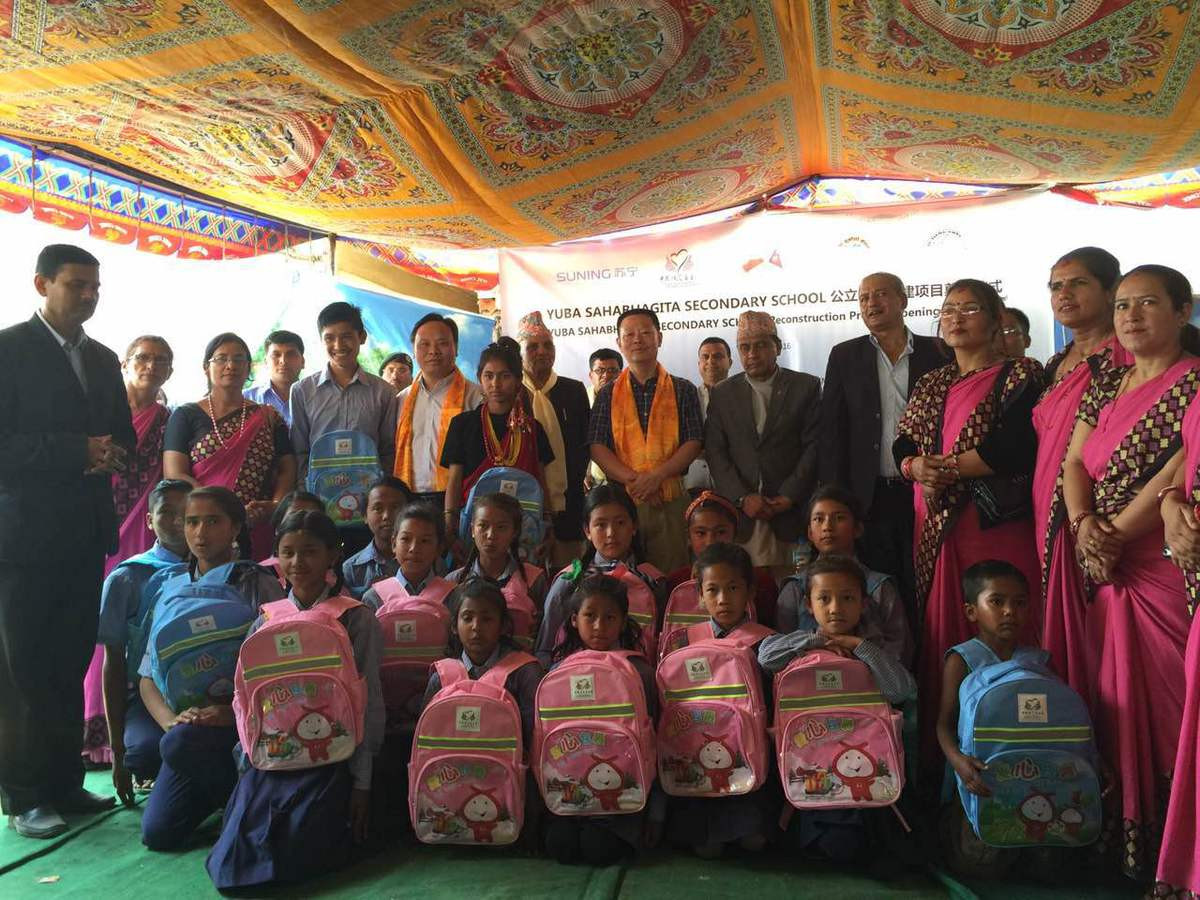 A leading Chinese commercial company, China Foundation for Poverty Alleviation (CFPA) successfully holds Inaugural Ceremony of the Reconstruction of the Building of Yuba Sahabaghita Secondary School in Kathmandu, Nepal, April 24, 2016. [official website of CFPA]
The China Foundation for Poverty Alleviation, a major charity in Beijing focused on poverty issues, has stepped up collaborations with humanitarian groups in countries involved in the Belt and Road Initiative in a bid to promote emotional ties with people in these countries.
The foundation, which has a presence in more than 20 countries and regions worldwide, has launched such projects in countries including Myanmar, Nepal, Cambodia, Ethiopia, Sudan and Uganda. Bureaus were also set up in Myanmar and Nepal to facilitate the initiative.
In one program, free meals are provided to students attending public schools in Ethiopia and Sudan, which quickly proved useful to boost attendance numbers of impoverished students.
Another successful project initiated by the foundation can be found in Ethiopia's vast arid regions. By funding the construction of 81 water cellars, the project has benefited more than 8,000 locals grappling with dire water shortages.
Moreover, a scholarship program has received much praise in Myanmar for aiding some 1,300 financially strapped students with their college fees, as well as improving their quality of life.
The foundation said more than 60 million yuan ($9 million) has been injected into such endeavors since May 2017, when China held the first Belt and Road Forum for International Cooperation in Beijing and hosted top leaders from about 29 countries.
According to the foundation, the number of beneficiaries is expected to exceed 200,000 as the foundation has been expanding its overseas presence in the last 14 years.
The foundation made its global debut in 2005, in the aftermath of the deadly tsunami that struck the Indian Ocean and killed more than 200,000. A total of $5.3 million was donated to aid the relief work.
In the years that followed, it opened overseas bureaus, spearheaded international rescue efforts, advocated health checkups in less-developed countries and sponsored vocational training for African women.
By the end of last year, its contribution to overseas projects exceeded 160 million yuan, with its donations reaching 450,000 needy people worldwide.
The foundation said these represent efforts to supplement the insufficient role that Chinese companies have in solving local issues, as well as the wish to extend the reaches of Chinese people's philanthropic deeds.
As China charges ahead with the multibillion dollar BRI, which is one of its many ambitions such as boosting infrastructural ties and trades, it also values forging emotional ties among participating countries, and the foundation felt that efforts were on point, according to Chen Hongtao, the foundation's deputy secretary-general who oversees its international strategy.
Chen said the group will continue to tailor sustainable programs that fit local conditions in a bid to enhance emotional connections with the countries.
"We'll stick to efforts that target international poverty issues," he said.
According to Chen's office, 12 million yuan will be raised in the next two years to provide free meals on school campuses in Ethiopia and Sudan. This initiative is expected to cover up to 9,000 students.
In addition, the Ethiopian water cellar project will receive a fund of 4 million yuan and the Myanmar scholarship project will have a fund of 6 million yuan over the same period.
More than 1 million Panda Packs, containing stationery and daily necessities, will also be distributed to students by the end of 2022. It is hoped that the pandas on such packs will represent the goodwill of Chinese people, Chen added.