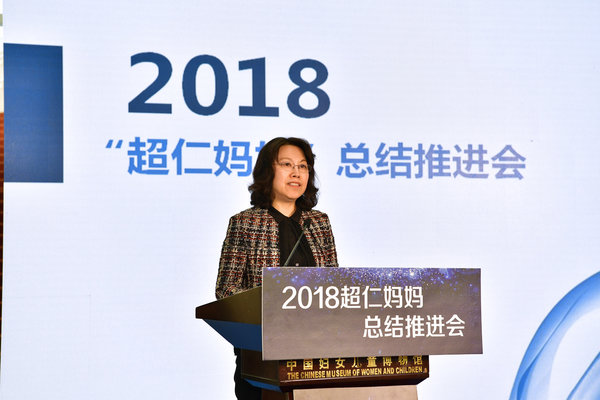 Zhang Jianmin delivers a speech to introduce the project's main achievements over the past three years. [Women of China / Fan Wenjun]
China Women's Development Foundation (CWDF) organized an annual activity to conclude the SuperMom charity project at China National Museum of Women and Children in Beijing on December 24.
Participants included Wang Yinxiang, vice-president of CWDF; He Zhenhong, director of China Entrepreneurs magazine and president of Mulan Club, an influential female entrepreneurs' club; and, Zhang Jianmin, deputy secretary-general of CWDF.
Further attendees included Deng Yaping, Olympic champion and publicity ambassador of the SuperMom project; actress Wang Yuanke; and, over 60 outstanding mothers.
Zhang explained the main achievements the foundation made over the past three years.
"As a donation platform with female characteristics, the project has promoted mutual assistance among women and spread positive energy," Zhang said.
"It has also earned high praise from the public after being awarded the 10th China Charity Prize by the Ministry of Civil Affairs."
In her speech, He Zhenhong said the project has helped women engage in social governance, find jobs and start businesses.
"I hope the Mulan Club can work with CWDF in the future to explore more methods to gather strength for women's development," she added.
Deng shared her charity experiences, and introduced the Sports Planet, a public project initiated by her. "I will make use of my advantages to promote the project," Deng said.
During the activity, the organizers reached cooperation agreements with other charity platforms.
Wang shared her thoughts about philanthropy and appealed to the public to support the project after being officially appointed as an ambassador by CWDF.
Zhang issued certificates to the first five partner organizations.
During the activity, organizers also displayed outstanding projects of 2018 and released a publicity video.
In the afternoon, CWDF organized various activities. During an open course, Zhao Hua, executive deputy secretary-general of Bright China Foundation and senior lecturer of Peter F. Drucker Academy, shared her thoughts on the operation of non-government organizations, and Jin Jinping, an official at Peking University's Law School, spoke about promoting philanthropy and legal awareness.
At a themed charity salon, Sun Xuemei, chief editor at gongyi.ifeng.com; Jiang Qiurong, secretary-general of the Mulan Club; Peng Yanni, secretary-general of Narada Foundation; and, Yang Qun, specialist of female leadership at Cambridge University, discussed developments and changes in female philanthropy
They were joined by Nan Jing, assistant secretary-general of CWDF and lecturers Zhao Hua and Jin Jinping .
The next day, CWDF arranged for attendees to meet representatives from sports equipment manufacturer Lining Group and shopping site Dunhuang.com to learn more about company management, improve leadership, and hunt for economic partners.
Attendees recite poems. [Women of China / Fan Wenjun]
Deng Yaping shares her experiences. [Women of China / Fan Wenjun]
Mothers are rewarded prizes. [Women of China / Fan Wenjun]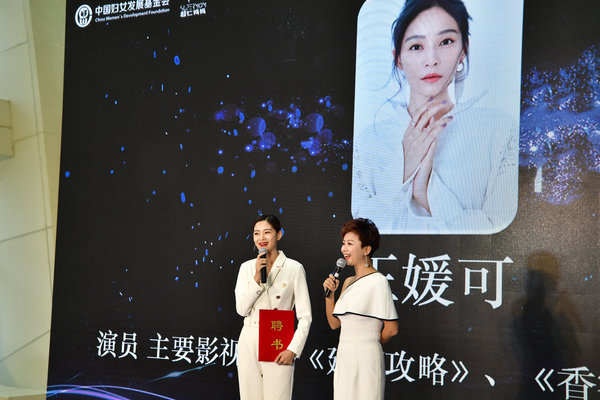 Wang Yinxiang calls on the public to pay attention to philanthropy. [Women of China / Fan Wenjun]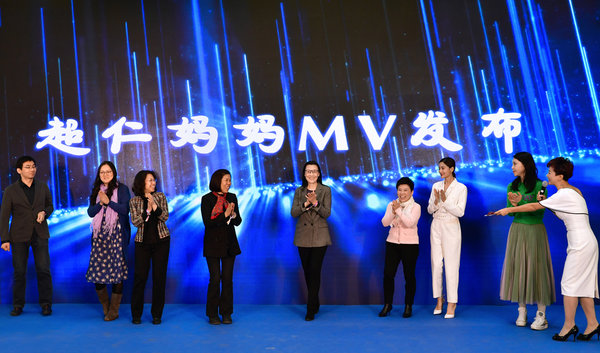 Attendees release a poster. [Women of China / Fan Wenjun]
Attendees at the gathering [Women of China/ Fan Wenjun]