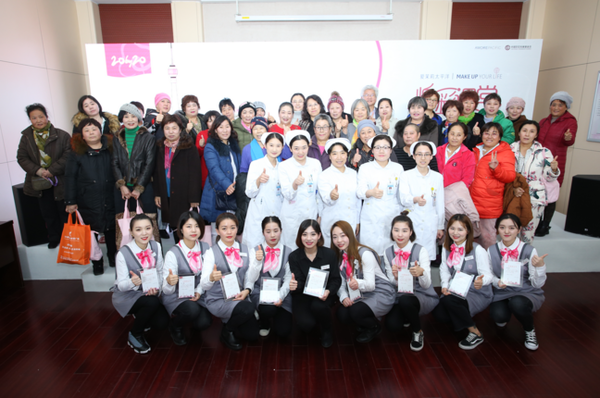 Participants at the activity [CWDF]
China Women's Development Foundation (CWDF) and South Korea-based cosmetics brand Amorepacific Group jointly organized a make-up activity at the General Hospital of the People's Liberation Army in Beijing recently to help two women with cancer regain confidence in life.
Organizers invited the patients to participate in the 2018 Beauty Restoration Classes and instructors taught them how to care for their skin and apply make-up.
Professor Huang Yan, a breast surgery specialist at the hospital's No.5 Medical Center, paid a visit to the activity and gave a lecture on health to the patients.
The activity was part of the effort of the Make Up Your Life Project, which was first launched by Amorepacific domestically in 2008.
In 2011, China introduced the project to encourage patients of the so-called "two cancers", namely breast cancer and cervical cancer, to fight the disease and help the afflicted women choose their suitable cosmetics.
In 2016, the Aromapacific worked with CWDF to establish a special fund to raise women's awareness of preventing the two cancers and help patients recover.
This summer, organizers provided two cancers screening services to over 20,000 rural women in 10 counties in northeast China's Heilongjiang Province, southwest China's Guizhou Province, and northwest China's Ningxia Hui Autonomous Region. They also gave lectures on health in the areas.
This year's Beauty Restoration Classes have taken place in Beijing, Shanghai, and Chengdu, southwest China's Sichuan Province respectively, and over 200 patients have benefited from the activities, according to a spokesperson.
Professor Huang gives a lecture on health to "two cancers" patients. [CWDF]
A make-up professional helps a woman apply cosmetics. [CWDF]
(Source: China Women's Development Foundation / Translated and edited by Women of China)