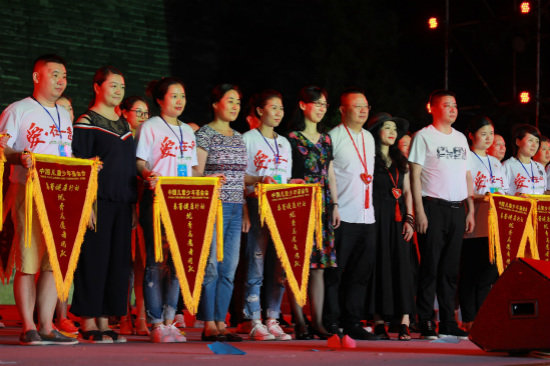 Officials of CCTF present honorary banners to volunteers of Timier House. [People's Daily]
China Children and Teenager's Foundation (CCTF) organized a public benefit activity, as part of the Spring Bud Health Initiative charity project, in Beijing on August 8, in an effort to call on society to show more concern for impoverished girls in the country.
Xu Xu, deputy secretary-general of CCTF; Cai Bingguo, chairman of the board of a Guangzhou-based cosmetics company Timier House; and officials from women's federations at all levels participated in the activity.
The project, which was jointly initiated by CCTF and Timier House in 2017, aimed to improve the living as well as study environments for disadvantaged groups.
Over the past year, a total of nearly 30,000 girls in some 13 provinces, including northwest China's Qinghai Province, southwest China's Yunnan Province and southeast China's Fujian Province, have received Healthy Growth Handbags and Healthy Growth Manuals and have been offered professional training on the subjects of physiology, health and etiquette.
At the activity, officials and business leaders voiced their thoughts on the project.
"Girls are an important force in promoting the development of society and civilization, thus caring for them is equivalent to caring for our shared future and hope in the country," Xu said.
"I hope more enterprises, loving people, non-governmental organizations and volunteers can join us to give more support to the disadvantaged groups," he added.
"Every enterprise should be active to fulfill its social responsibility," Cai said. "Timier House hopes to continue to work with the CCTF in the future and expects more efforts to be made to help girls in remote and impoverished areas."
(Source: People's Daily / Translated and edited by Women of China)