Attendees at the opening ceremony of the charity project. [Yanji Women's Federation]
A charity project was jointly launched by China Women's Development Foundation (CWDF), the People's Government of Yanji City in northeast China's Jilin Province and Beijing Flight and Aviation Science Popularization Center on July 25 to publicize aviation knowledge.
Li Xiaoyan, director of the Charity Project Department of CWDF, Li Juntian, president of the popularization center, Gai Yinghong, deputy mayor of the local government, and other local officials attended the opening ceremony.
As part of the initiative, experts will organize a variety of activities including lectures and training sessions, and form a professional team to develop citizens' interests in general aviation and encourage them, especially women and teenagers, to dedicate themselves to the country's general aviation development.
"Being the first city in China to launch such projects, Yanji's support and passion for the country's general aviation cause are explicit," said Li.
"To live up to the trust of the local people and take a lead in creating an aviation culture in the city, as the joint sponsor and the sole executive party of the public welfare project , we will earnestly implement relevant polices and do our best to select more local women to work in the industry," he added.
A total of 12 women have been selected to go to the capital for professional training.
Some 400 people chosen from among all the primary school students and girl students above 14 in the city will have chances to participate in aviation science popularization classes and fly flight simulators.
Meanwhile, CWDF will seize the opportunity and cooperate with other cities in the country to promote the development of China's aviation industry, according to a spokesperson.
Gai Yinghong, deputy mayor of the People's Government of Yanji City in northeast China's Jilin Province. [Yanji Women's Federation]
Luo Songyu, president of Yanji Women's Federation, convenes over the opening ceremony. [Yanji Women's Federation]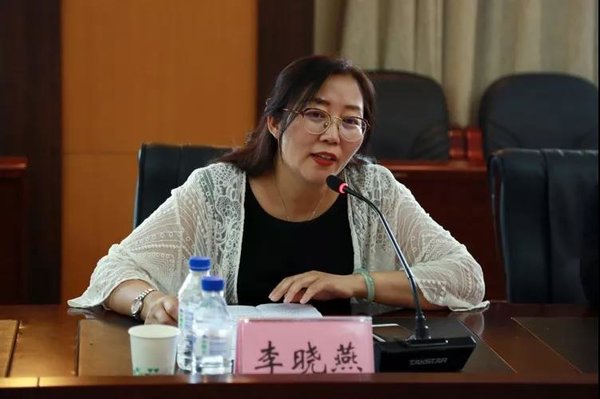 Li Xiaoyan, director of the Charity Project Department of CWDF. [Yanji Women's Federation]
Li Juntian, president of Beijing Flight and Aviation Science Popularization Center. [Yanji Women's Federation]
(Source: Women Voice / Translated and edited by Women of China)