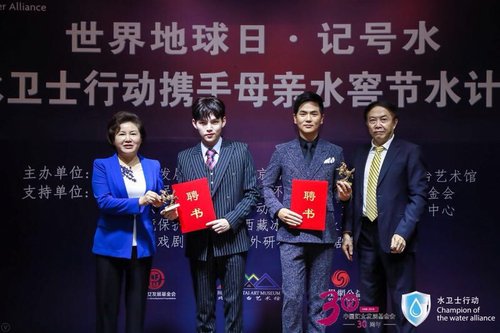 Meng Xiaosi and Yuan Xikun give letters of appointment to ambassadors of the project. [Cwdf.org.cn]
Beijing Jintai Art Museum hosted the Champion of the Water Alliance and Water Cellar for Mothers Water-Saving project on April 22 to mark World Earth Day.
The event was organized by China Women's Development Foundation (CWDF) and Beijing Yiyuan Society for the Promotion of Culture and Art. It intends to encourage members of the public to save water in their daily lives.
Meng Xiaosi, former vice-president and member of the Secretariat of the All-China Women's Federation (ACWF), also a member of the standing committee of the 12th CPPCC National Committee, attended the gathering.
Further attendees included Yuan Xikun, the first UN Environmental Art Master and founder of the Champion of the Water Alliance; Zhang Jianmin, deputy secretary-general of CWDF; and, other leaders from environmental protection departments.
Water is the source of life and one of the most important material resources for human survival and development. However, the distribution of water resources in China is unbalanced, with some areas in the northwestern Loess Plateau region experiencing extreme water shortages.
In order to help alleviate drinking water shortage in the impoverished arid regions of the west, CWDF has made a positive effort to carry out the Water Cellar for Mothers project since 2001 to help people alleviate poverty caused by the issue.
In April 2011, with the cooperation of the CWDF, Yuan launched the alliance.
After eight years of efforts, the Mark Your Water project was adopted at the 19th National Congress of the Communist Party of China, the so-called "Two Sessions"meetings, and at APEC and other important meetings, while the iWater label has been written into national standards to save water practically.
At the activity, Meng thanked Yuan for his long-term contributions to environmental protection and expressed her appreciation of all new ideas proposed by the Champion of the Water Alliance project.
"It is our urgent need to conserve water resources and it is everyone's duty to save water. We should take action now to save water and protect the environment ourselves, from little things," Yuan said in his speech.
Zhang Hejun, secretary general of the Champion of the Water Alliance, announced a 2018 work plan that will cooperate with the Tibet Spring Company to sell the "5100 branded water" to certain institutions, and the company will donate 0.1 yuan from the sale of each bottle of water to CWDF's fund for publicizing water-saving.
The activity also was supported by many philanthropists. Actors Zhang Xiaolong and Zhu Xingjie have been appointed as its ambassadors.
The International Drama Education Congress will cooperate with the project to carry out a drama education project. Furthermore, the activity will run an iWater family creative competition to encourage people to protect the environment and establish new conservation concepts.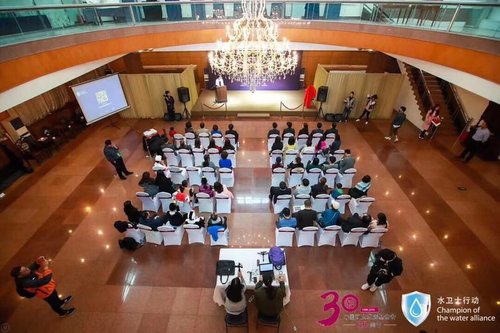 Activities take place as part of the Champion of the Water Alliance and Water Cellar for Mothers Water-Saving project [Cwdf.org.cn]
Actor Zhang Xiaolong acts as an ambassador. [Cwdf.org.cn]
Actor Zhu Xingjie acts as an ambassador. [Cwdf.org.cn]
(Source: Cwdf.org.cn/Translated and edited by Women of China)