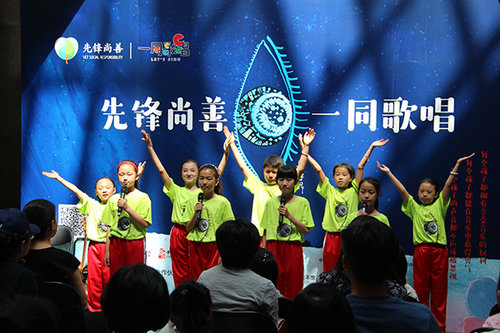 Children perform at the event [China Daily/Xiong Ying]
A special musical event was held in Beijing on June 1 to raise awareness of children in difficult situations, including those with disabilities or rare diseases and who are left behind in rural areas by parents working in the cities.
The Children's Day event included a choral performance by children of migrant workers in Beijing and ethnic singing by children of Dong ethnic village in Guizhou province.
The charitable event was jointly organized by Tongxin Charity Foundation under the China Social Assistance Foundation, the Beijing Illness Challenge Foundation and the Research Center for Media Communication and Youth Development established by the Institute of Media Research under the Chinese Academy of Social Sciences.
According to Sun Heng, executive director of the newly-found Tongxin Foundation, the concert is part of their plan to support children in difficult conditions through music. The plan also includes opening workshops for children to work on songs that can express children's feelings and establishing musical bands, groups and choirs of children who face such difficult situations.
"After years of observation during our charitable work, we found that many children, either those left behind, or those with disabilities or rare diseases, love music very much. We saw the power that music has to lift their spirits and give them hope," explained Sun.
Some of the musical pieces that were performed had been jointly composed by children and professional musicians. Three adult bands also joined the two-day event and a charity bazaar was organized during breaks in the performances.
According to Wei Bu, a professor from the Research Center for Media Communication and Youth Development — one of the organizing bodies — such activities are meaningful, especially by involving the children, as they can help them develop their potential and build their confidence.
"It can be an important means for children in difficult situations to enable their voices to be heard, to integrate with and enjoy their place in society," he explained.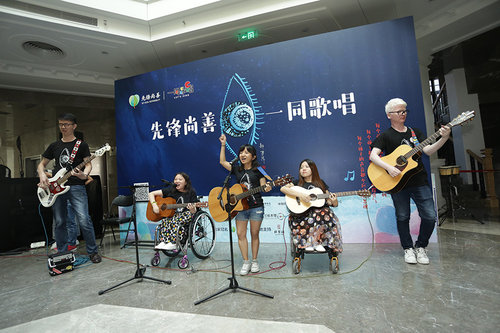 Band 8772 performs [China Daily/Yin Jilong]
(Source: China Daily)