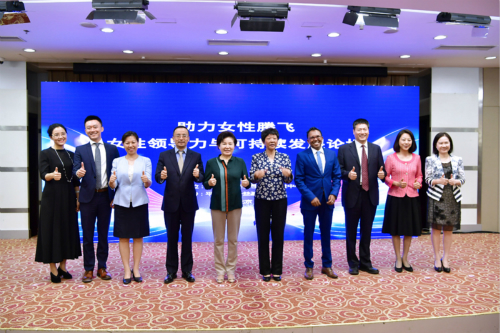 Leaders at the event [Women of China/Fan Wenjun]
China Women's Development Foundation (CWDF), in partnership with Beijing Yueying Women's Growth Promotion Center and Ping'an Puhui Fund, launched a forum in Beijing on May 27 to discuss women's leadership and sustainable development.
Yin Hong, Vice-Chairperson and Secretary-general of Jiusan Society Central Committee and Vice-President of the All-China Women's Federation (ACWF), attended the forum along with other officials, including Meng Xiaosi, former Vice-President and Member of the Secretariat of the ACWF and President of CWDF; Zhang Jianmin, Deputy Secretary-general of CWDF; Devanand Ramiah, deputy country director of the United Nations Development Program (UNDP) in China, and, Ni Rongqing, vice-president and chief product officer of Ping'an Puhui.
The forum was a chance to exchange and display the results of the implementation of the Dandelion Female Leadership Co-building Project initiated by the CWDF. More than 180 participants involved in the project attended the gathering.
Meng delivered a speech, reviewing the practice and remarkable achievements of the Chinese women's movement. She said that the development of women's leadership in the political, economic, and academic fields are still faced with obvious difficulties, combined with the current progress of gender mainstreaming in the world.
She also spoke about the ability and character of outstanding female leaders from the perspective of fostering strategic thinking and cultivating personal charisma, in combination with her own experiences and knowledge.
Meng extended her wishes to attendees that they would become outstanding female leaders in various fields in the new era and enjoy the life and work towards excellence in female leadership.
Ramiah also addressed attendees by congratulating the CWDF on its achievements in the past 30 years since its establishment. He pointed out that despite their own capability, women should be provided with an environment where their leadership is recognized, encouraged and institutionalized.
"The UNDP office in China is willing to work with partners in various fields to make unremitting efforts to promote gender equality in China and promote the sustainable development of female leadership," Ramiah added.
Ni, at the event, discussed the development of women in China from three aspects, including the status quo of women in Chinese society, Ping'an Group's investment in the promotion of women's development, and support for women's development.
He said that: "We will explore and provide feasible solutions to solve social problems through our experience in the area to build a convergent public service platform, and connect social organizations and caring people to jointly promote women's development.
In addition, Ping'an Easy Money signed a cooperative contract with the CWDF, and donated to support the Mother's Entrepreneurial Revolving Fund project and the Dandelion Project in order to encourage women from all fields to build mutual assistance and cooperation, and to further enhance their leadership and transmit positive influence to the broader women's community.
Both sides stated that they will further strengthen cooperation on the protection of women's rights and the promotion of women's development and work together to achieve the goal of gender equality in China.
Yin made a speech and put forward a series of expectations and requirements for participants of the charity project.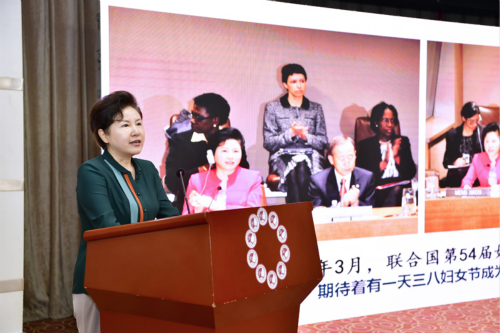 Meng Xiaosi delivers a speech at the event. [Women of China/Fan Wenjun]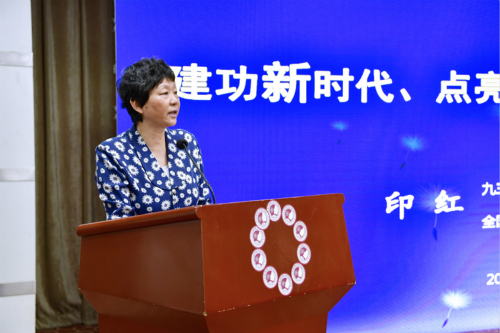 Yin Hong delivers a speech at the event. [Women of China/Fan Wenjun]
Devanand Ramiah delivers a speech at the event. [Women of China/Fan Wenjun]
Ni Rongqing delivers a speech at the event. [Women of China/Fan Wenjun]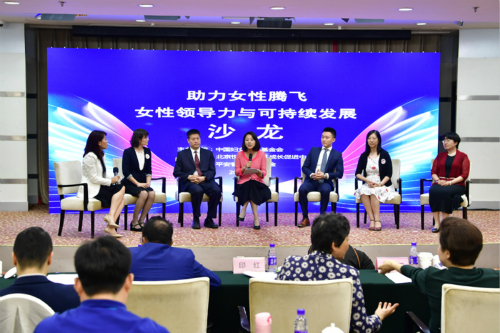 Guests attend a discussion at the event. [Women of China/Fan Wenjun]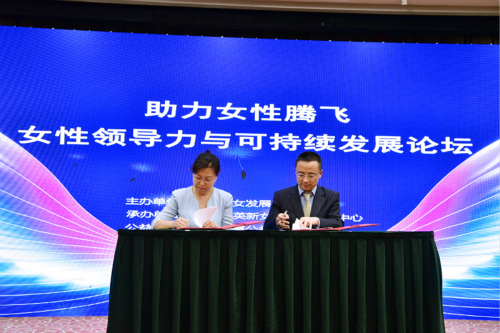 The contract-signing ceremony between Ping'an Puhui and China Women's Development Foundation [Women of China/Fan Wenjun]