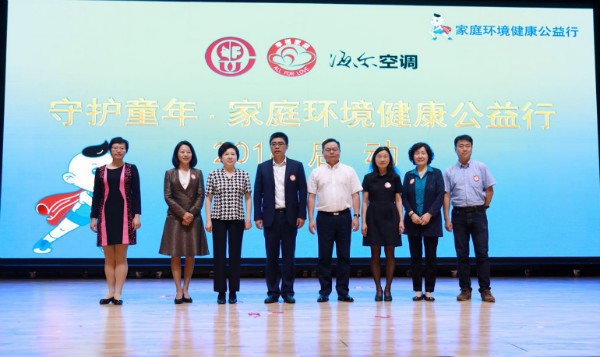 Representatives at the event [Women of China/Fan Wenjun]
China Women's Development Foundation hosted a public-welfare project on the theme of "Family Environmental Health for Better Childhood" in Beijing on May 18.
The event was organized with the support from the Haier Air Conditioner Company.
Attendees at the gathering included: Meng Xiaosi, member of the Standing Committee of the 12th Chinese People's Political Consultative Conference, also the former vice-president of the All-China Women's Federation; Zhao Lijun, vice president of Beijing Women's Federation; Editor-in-Chief Sun Qianbin of the Chinese Women's News; and, expert representatives and local families.
Around 200 people were present for the launch ceremony, where Meng presented an award to the sponsor company and called for common efforts to protect the environment.
Members from the Haiwa Art Troupe performed a children's stage play on the importance of the family environmental health.
In addition, five experts from different fields, discussed topics including the importance of good communication for a happy family, and how clean air affects the family environment.
Zhao Chaoyi, an expert from China National Institute of Standardization, spoke on the harm caused by air pollution to people, especially to children, and called for more attention to respiratory health of mothers and infants.
Haier Air Conditioner Co. has always focused on this issue, and it will continue to promote the construction on the Healthy Air Classrooms project in future, according to a spokesperson.
Furthermore, following a call from the National Health Commission of the People's Republic of China, organizers will carry out stage plays at several hundred kindergartens in Shanghai, Beijing, and other cities later this year, and distribute popular science books.
Meng Xiaosi presents an award to a representative from Haier Air Conditioner Co. [Women of China/Fan Wenjun]