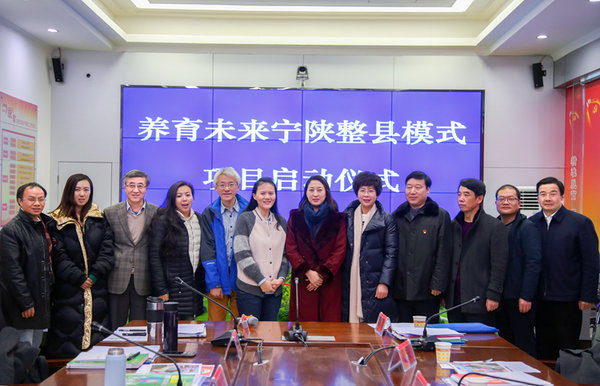 Alibaba launched the Rural Education Action Program in Ningshan, Northwest China's Shaanxi Province.
Top business leader Peng Lei, Founder and former CEO of Ant Financial Services Group, attended a women's poverty alleviation conference in Ningshan, Northwest China's Shaanxi Province on April 11.
Ningshan is a State-level targeted county of poverty alleviation and development. It is a county in Qinba mountainous region decided by the General Office of the CPC Central Committee as a fixed point of poverty alleviation. At the meeting with rural women in Ningshan, Peng said that her company would help local women in three ways: by providing small loans, offering special insurances and helping mothers raise their children.
REAP Brightens Future of Countryside
The Rural Education Action Program (REAP) is a charity program guided and supported by the Rural Education Action Research Center. The program provides ECD (early childhood development) support and intervention to infants and children aged 0-3 and their families in Ningshan.
Ningshan has a total of 1,375 infants aged 0-3, and 4,441 impoverished women.
With more parents and children finding help from the program, preliminary results have already been achieved.
"It can be a turning point of Ningshan's quality-improving campaign as children of this generation continue to benefit from REAP," Secretary of the CPC committee in Ningshan County,Zhang Yimin, said in an interview.
Providing Small Loans, Special Insurances
In December 2017, Alibaba announced plans to make poverty alleviation one of its strategic tasks and to allocate 10 billion yuan for targeted poverty alleviation and rural revitalization.
"The default rate among women borrowers is one third of that of men, so they are more trustworthy," Peng said.
"Our task is to transform their credit into economic capability," she added.
To safeguard long-term change, Alibaba provided special insurances that would benefit women throughout different stages of their lives.
"We've taught local officials to use the payment platform Alipay, so that villagers can receive compensation as soon as possible," said Shen Hongping, leader of Alibaba's poverty-alleviation project.
(Source: youth.cn/Translated and edited by Women of China)