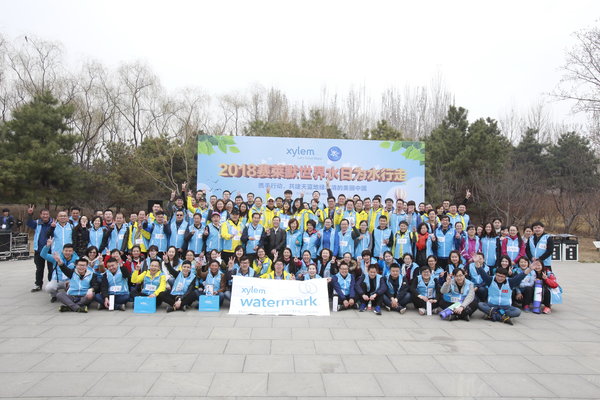 Attendees pose for a group photo at the walking event. [mothercellar.cn]
A walking event was held at Chaoyang Park in Beijing on March 23 to celebrate the arrival of the 26th World Water Day (March 22) and the 31st China Water Week (March 22-28).
It was co-sponsored by the U.S. Xylem Corporation's branch in China, China Women's Development Foundation (CWDF), and the Center for Environmental Education and Communications (CEEC) in the recently regrouped Ministry of Ecology and Environment.
The United Nations (UN) has designated "Nature for Water" as the theme of this year's worldwide observation.
The running event in Beijing was designed to help participants closely experience the hardships and difficulties involved in collecting drinking water by people living in drought regions and to further increase the public's awareness of the protection of water resources in their daily lives.
As a nation plagued with severe water shortages, China has come up with a collection of laws and regulations and further strengthened its law enforcement to supervise water pollution and strictly punish violators over the past few years.
President of Xylem's Chinese branch Lü Shuping pledged at the event that her enterprise would stick to its original aspirations of providing applicable solutions to worldwide water shortages, rally more support from its employees to assume corporate social responsibilities, and work with its partners in safeguarding the harmony of accessing water resources in the future.
She disclosed that the firm would invest U.S. $ 200,000 under the charity program, Watermark, to upgrade the standards and facilities of drinking water for students from remote areas across the entire country and to promote the popularity of relevant education amongst them this year.
By the end of 2017, Xylem's investments into the Watermark initiative had totaled U.S. $ 2.9 million and benefited over 60,000 underprivileged students and their teachers since it was launched in 2009.
Those present at the walking event included Nan Jing, assistant to the CWDF's secretary-general, and representatives from other sponsoring departments, social organizations engaged in the utilization of water resources, and local media.
Participants at the walking event. [mothercellar.cn]
The first participant crosses the finish line at the walking event. [mothercellar.cn]
(Source: mothercellar.cn/Translated and edited by Women of China)