Guests at the conference [Women of China/Fan Wenjun]
Shopping website Vip.com recently donated 10 million yuan (U.S.$ 158,000) to China Women's Development Foundation (CWDF) to establish the VIP Love fund for the benefit of single mothers across the nation.
At a press conference in Beijing on March 28, organizers also launched the associated VIP Love, Mother +Happiness Empowerment Plan, a public welfare platform.
The platform will provide support and assistance through psychological counseling, legal aid, insurance services, employment and other means.
At the meeting, Vip.com's Public Welfare department, announced the results of the first stage of the Cross-City Single Mothers Survey and the recruitment progress of the Plan.
The survey indicates that single mothers are troubled by unemployment, loss of help and loss of assurance, and their needs are fragmented, diverse and often difficult to meet.
With the continuous expansion of the VIP Love, Mother + Nonprofit Alliance, groups and individuals interested in the charity can help encourage single mothers with their support and energy.
During the initial research period, many mothers put forward suggestions for the project based on their own situation.
CWDF also liaised with psychological assistance and legal aid platforms and reached a cooperation agreement with China Marriage and Family Research Association. Later, they will provide professional services and guidance.
At the event, Zhang Jianmin, Deputy Secretary-General of CWDF; Huang Hongying, Vice President of Vip.com; and, representatives of the VIP Love, Mother and Nonprofit Alliance discussed the progress of the Plan.
Constrained by traditional ideas, single mothers are a group of people "who do not complaint a lot" in our country. Though their needs are diverse, they are not easy to be perceived and satisfied by the outside world.
The Single Mothers' Research Project is being carried out with scholars from universities and social work organizations in Beijing, Tianjin, Nanjing, Chengdu, and Guangzhou, collecting conduct in-depth research on over 600 single moms in five cities using questionnaires and focus group discussions.
Organizers plan to gradually expand the project into a broader range across the country, to gain insight into the status of single mothers and meet their needs in a more relevant and targeted manner.
A representative of the Alliance, Zhou Haiming, who is Deputy Director-General of the Datong Social Work Service Center in Guangzhou, South China's Guangdong Province, said the reason why she joined the alliance is to participate in various kinds of training and communication, project management, share public resources, and improve project management capabilities and influence.
Only by achieving continuous and sustainable development can the alliance provide continuous support to single mothers, she said.
Professor Cui Xiaohui of Nanjing University of Posts and Telecommunications, who has long been concerned with the development of single mothers, said more and more organizations and individuals in society are looking forward to empowering single parents.
However, he said that many positive projects for single mothers have failed due to lack of support.
Huang Hongying, vice president of Vip.com, said, "As a company with a focus on women's growth, Vip.com will spare no efforts to take the Plan as a foundation stone to work together with public welfare forces.
"Constructing a sustainable public welfare ecosystem which will eventually become the driving force behind the Plan and let it achieve its own virtuous circle through the Alliance, continuously optimize and iteratively develop and inject long-lasting support and energy into over 20 million single mothers across the country."
At present, over 90 percent of the consultations for the VIP Love Mothers' Charge Station involve custody, child support, divorce and compensation.
The survey indicates that many mothers need for flexible employment. Vip.com hopes that more legal institutions, professionals and companies that can provide flexible jobs for single mothers and join the Alliance.
"Every individual that comes into this world has his or her mission. Single mothers are not just people who accept help passively," said Zhai Xiufang, a single mother.
"We can also share experiences through online and offline communities, support each other and go forward bravely, so as to achieve the transformation from getting help to self-help then to helping others," she concluded.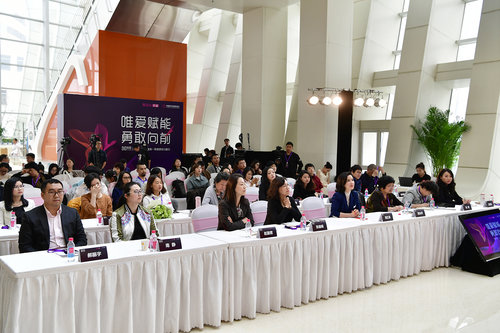 Participants at the event [Women of China / Fan Wenjun]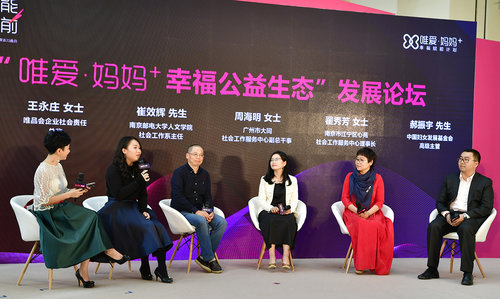 Participants share ideas. [Women of China / Fan Wenjun]
Huang Hongying addresses the conference. [Women of China / Fan Wenjun]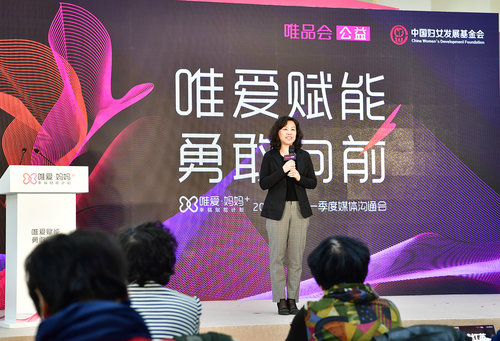 Zhang Jianmin addresses the conference. [Women of China / Fan Wenjun]
A single mom introduces her situation. [Women of China / Fan Wenjun]
A journalist asks questions. [Women of China / Fan Wenjun]