Former vice-president of the ACWF Meng Xiaosi gives a speech. [Women of China]
Zhang Jianmin, deputy secretary-general of CWDF, signs an agreement with Amore Pacific China president, Gao Xiangqin. [Women of China]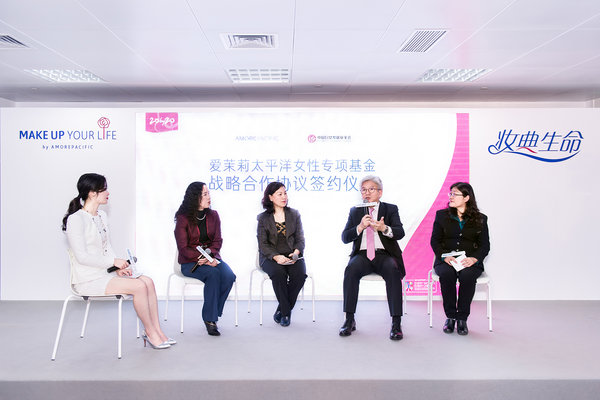 Special guests Zhu Xuemei (L2), vice-director of general office of Guizhou Provincial Working Committee for Children and Women, Zhang Jianmin (M), Gao Xiangqin (R1), and Chang Xiaohong (R2) talk at the event. [Women of China]

China Women's Development Foundation (CWDF) has recently signed a three-year strategic cooperative agreement with Amore Pacific, a South Korean beauty and cosmetics firm, to promote women's health across China.

The firm pledged to invest a total of 30 million yuan (U.S. $4.7 million) to ensure further development of the ongoing public welfare Make up Your Life Campaign until 2020.
The campaign, which began in 2016, focuses on screening and treatment for the "two cancers", namely cervical and breast cancer.
Founded the same year, the Amore Pacific Women's Special Fund (APSWF) has closely cooperated with CWDF since then.
The campaign has provided free screening services to more than 30,000 women in poverty-stricken areas over the past two years.
It has also popularized knowledge on health to over 120,000 women and formed a public welfare activity chain, from raising awareness, to screening and post-operative care.
Former Vice President of the All-China Women's Federation (ACWF) Meng Xiaosi, who is also president of CWDF, praised the cooperation between the two sides.
"It has offered much help to women, especially in poverty areas, revealing its social responsibility and mission. We believed that we can provide better services to more Chinese women," Meng added.
Gao Xiangqin, Amore Pacific China president, and Zhang Jianmin, deputy secretary-general of CWDF, signed the agreement as representatives.
Gao said they have formed a cooperative frame for the next three years to provide better and guaranteed services.
Amore Pacific is also the cooperative partner of the UN's Every Woman, Every Child campaign.
CWDF and Amore Pacific also launched two related activities at the ceremony. Firstly, Amore Run will take place at Shanghai Oriental Sports Center on April 15. All runners can sign up using the Joyrun app.
Secondly, both side will hold an activity featuring eight famous bands who will participate in a charity bazaar online and offline throughout March.
All profits will be donated to the fund, to be used for cervical and breast cancer screenings in poverty-stricken areas.