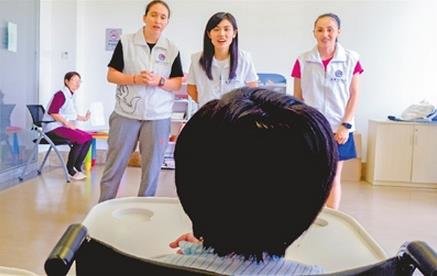 (From L to R) Kelly Johanna Diaz Camargo, Chen Qiuzi and Luz Darmely Rodriguez Maldonado give an English class to a child with porcelain doll disease at the University of Hong Kong-Shenzhen Hospital on Oct. 25. [Shenzhen Daily/Liu Xudong]
An English course was given to eight children suffering from porcelain doll disease and cerebral palsy at the University of Hong Kong-Shenzhen Hospital in south China's Guangdong Province on October 25 afternoon, organized by Longfei Children's Aid Society.
Kelly Johanna Diaz Camargo, Luz Darmely Rodriguez Maldonado and Chen Qiuzi were the three volunteers who led the class that day, teaching the kids English words and phrases in both English and Chinese.
"I have been here volunteering for seven months already," said Diaz from Colombia. "A teacher from the Shenzhen University invited me. And actually I was a little bit worried because I am not a native English speaker. My mother language is Spanish."
"The kids have so many problems and they have to be here all the time. But you can see their happiness when they see foreigners speak to them and when they reply to you with answers. You can see a big smile. This really touches you and makes you realize that life is so beautiful," said Diaz.
Rodriguez, who also comes from Colombia, told the Shenzhen Daily that she has been in Shenzhen for six years now and knows some words to help the kids understand what she wants to say. "Sometimes when I start to speak with them in Chinese, they feel more confident and more close to me. And I look like a Chinese person, which also makes them feel more confident with me."
"All of the volunteers are giving up their personal time when they deliver courses for us. Here in a small class environment, we are able to learn while having fun," said Wang Wanqi, who is affected by porcelain doll disease.
"Knowledge is not the only thing that can be learned; with the participation of more volunteers, the kids become more outspoken in the class setting. They become more outgoing and optimistic as they strengthen their communication skills, which is the most important gift we could give them," added Wang.
"Everyone is fortunate. I hope the little things we do with them will help them, and I hope that more people will become aware of their situation," said Chen.
Li Yuyun, with Longfei Children's Aid Society, said that they have provided classes for the kids every Wednesday and Saturday since September last year. "At this point, we have had a total of 65 classes. The English classes are mainly provided by teachers and students from the College of International Exchange at Shenzhen University."
Porcelain doll disease, also known as osteogenesis imperfecta or brittle bone disease, is a genetic disorder that affects the bones. It causes bones to be so fragile that they break easily, even by a gentle touch. Children affected by the disease cannot play or go to school normally like their peers.
(Source: Shenzhen Daily)