Attendees at the event [Women of China/Zhang Yuan]
More than 150 women and youngsters from Beijing and Hotan Prefecture, northwest China's Xinjiang Uygur Autonomous Region, took part in an activity at Beijing Women and Children's Social Service Center in Beijing on August 15.
Themed "Setting out for Happiness, Beijing and Hotan is a Close Family", the activity aimed to promote cultural exchange between Beijing and Hotan.
At the event run by Beijing Women's Federation, 60 children from the capital and Hotan worked in pairs to write cards and present gifts. Meanwhile, the youngsters and their moms also showcased their talents in singing and dancing.
The eight-day exchange activity is set to run till August 21. According to officials, each activity will be organized on a different theme.
Participants will visit a special farm in Fangshan District, Beijing, for example. Another parent-child event is called Juvenile and Children Reading Experience Wonderland.
In addition, the visitors from Hotan will tour Tian'anmen Square; the National Museum of China; the Badaling Great Wall; China Science and Technology Museum; and, visit an exhibition by the All-China Women's Federation (ACWF) on promoting positive family virtues.
In 2014, the women's federations of Beijing and Hotan signed an agreement on enhancing mutual exchange and cooperation on the theme of "Joining Hands to Create Beautiful Lives".
Over the past three years, the federations have contributed much effort to carrying out cooperation in many fields at various levels.
In specific, Beijing Women's Federation has organized law experts, entrepreneurship tutors and local artists to conduct training courses in Hotan. Meanwhile, Hotan Women's Federation has sent local outstanding females to carry out investigations and training in Beijing.
For its future work, Beijing Women's Federation has vowed to further strengthen the national unity and build a bridge to closely unite women and children from these two areas.
Those in attendance at the opening ceremony included: Jin Qingping, deputy director of the Department of Family and Children's Affairs of the ACWF; Lv Lixin, vice-president and secretary of the Party leadership group of Hotan Women's Federation; and, Ma Hongping, guest vice-president of Beijing Women's Federation.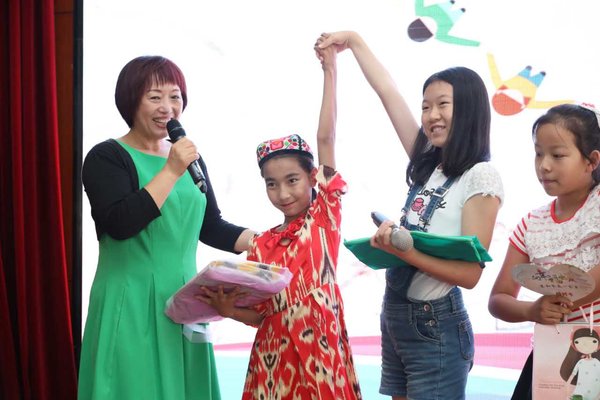 Children from Beijing and Hotan Prefecture, northwest China's Xinjiang Uygur Autonomous Region, exchange gifts. [Women of China/Zhang Yuan]
Two boys hug each other whilst sharing smiles. [Women of China/Zhang Yuan]