Officials and medical experts press the 'launch ball'. [Women of China/Fan Wenjun]
The China Women's Development Foundation (CWDF) held a launch ceremony on April 18 in Beijing for a public-interest lecture tour among grassroots communities under the slogan of "Health for Everybody".
Co-sponsors included the Chinese Hypertension League, the Chinese Association of Geriatric Research, the Chinese Nutrition Society, the Chinese Research Hospital Association and Health for Everybody magazine.
With acceleration of the country's ageing process, the number of patients with chronic and common diseases is growing sharply, say experts. In particular, osteoarthrosis and hypertension have affected the middle-aged and elderly population, greatly impairing people's quality of life.
Over the next three years medical experts will be invited to communities to give lectures on prevention and treatment of diseases and provide volunteer medical services.
Books and other information will also be distributed for free to spread basic knowledge of common and chronic diseases and help citizens, especially those who are poverty-stricken, take useful precautions.
Moreover, the associated Cards of Love scheme will help low-income families by providing them with discounts on their medical bills.
Meng Xiaosi, director-general of the CWDF, received a donation worth 30 million yuan (U.S.$ 4,358,627) from Shanxi Kangbao Biological Products Company and presented bosses with a donor's certificate.
Zhen Yan, deputy director-general of the CWDF, approved the company's support, and noted in her speech that the project's implementation should be combined with local welfare projects and impoverished women's relief work.
Gu Xiulian, director of the China National Committee for the Wellbeing of the Youth, presented certificates and the activity's banner to the first batch of experts taking part in the tour.
Zhang Jianmin, general-secretary of the CWDF, handed out letters of appointment to the activity's public ambassadors, singers Yun Fei and Chen Yunzi, who later read out the activity's proposal.
Then, attending leaders and experts launched the charity scheme officially.
After the ceremony two local experts held the first health lectures.
The event attracted nearly 200 officials, medical experts, academicians and local residents.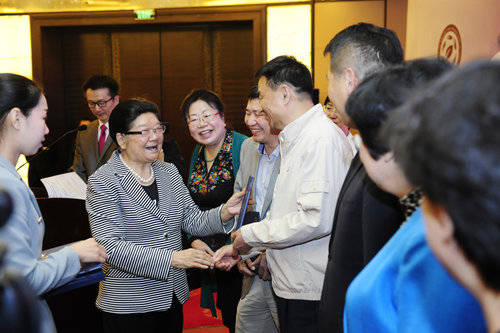 Gu (L2) presents certificates to experts. [Women of China/Fan Wenjun]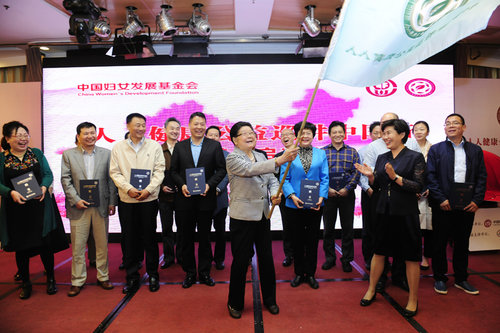 Gu (front, L) presents a banner of the activity to experts. [Women of China/Fan Wenjun]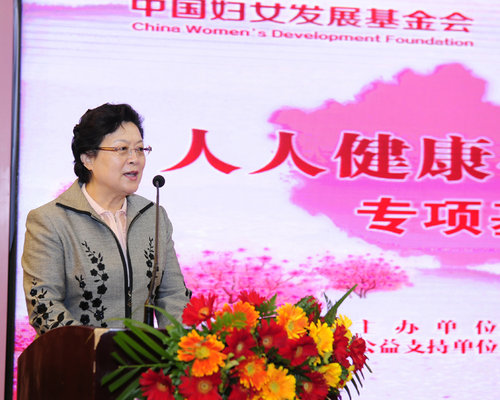 Zhen speaks at the ceremony. [Women of China/Fan Wenjun]
Meng (L) receives a donation, with which the CWDF set up a special fund to support the activity. [Women of China/Fan Wenjun]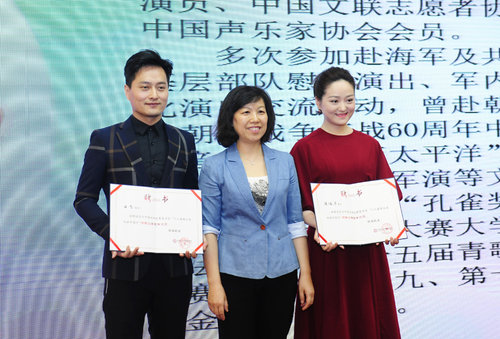 Zhang (C) presents certificates to public ambassadors. [Women of China/Fan Wenjun]
Attending experts at the event [Women of China/Fan Wenjun]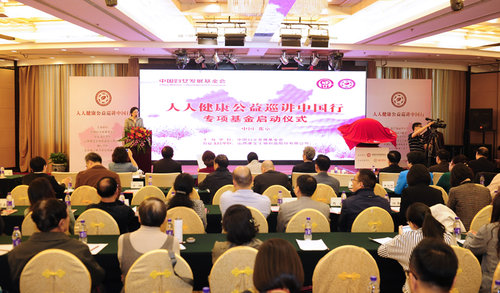 Attendees at the ceremony [Women of China/Fan Wenjun]
(Women of China)