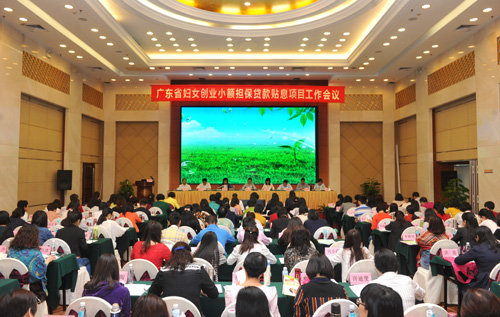 Attendees at the conference [gdwomen.org.cn]
The south China province of Guangdong will invest 3.9 million yuan (U.S.$ 566,800) over the next two years as part of a subsidized microcredit scheme to solve the financial difficulties of 6,000 female entrepreneurs, said local officials at a recent conference.
The conference was held on April 10 in the province's capital Guangzhou by Guangdong Women's Federation, the Department of Finance of Guangdong Province and a local branch of People's Bank of China.
Officials also announced that the maximum loan for each applicant will be raised from 80,000 yuan (U.S.$ 11,600) in the past to 100,000 yuan (U.S.$ 14,500).
In addition, every prefecture-level city can recommend five to 10 entrepreneurial role-models from farmers' cooperatives and women's startup demonstration bases, who will be granted a loan of up to 300,000 yuan (U.S.$ 43,600) each.
From 2011 to 2016, the province put in 71 million yuan (U.S.$ 10,318,800) in interest discounts under the first two sessions of the scheme, according to data released at the conference.
By late 2016, 880 million yuan (U.S.$ 127,871,600) worth of loans were offered to over 140,000 women in the province's 19 prefecture-level cities during the second session of the scheme. Of them, 99.9 percent were paid off, according to official figures.
Meanwhile, driven by the session, the province granted a total of 3.18 billion yuan (U.S.$ 462,021,200) in secured small loans, helping more than 250,000 women start businesses and achieve employment.
(Source: China Women's News/Translated and edited by Women of China)