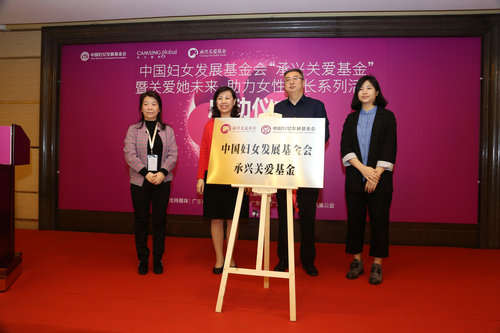 Sponsors launch the fund during the event. [Women of China/Fan Wenjun]
The China Women's Development Foundation (CWDF) launched a charity fund on March 6 in Guangzhou, capital of south China's Guangdong Province, to promote the healthy physical and mental growth of the nation's rural "left-behind" girls.
In recent years, with the advancing of urban-rural integration, a considerable number of China's rural residents have left their hometowns to find jobs in faraway cities.
Due to long separation from their migrant parents, many rural children suffer from mental conditions of varying degrees, especially female adolescents.
Without basic knowledge of physiological health, these "left-behind" girls are often scared by and left feeling helpless at changes occurring to their bodies during their growth.
This fund is designed to ease this urgent problem.
In the following five years, Chinese firm Camsing Global will donate at least 10 million yuan (U.S.$ 1,448,225) to fund charity projects related to these rural girls, with a focus on boosting their mental health.
During the launch event, sponsors announced two initial charity projects under the fund.
One project is to distribute free parcels filled with daily necessities for female adolescents. These parcels will reach rural "left-behind" girls by post to help them tackle problems encountered during their growth.
The other project is to invite mental and medical experts to rural schools to give youngsters regular lectures and counseling on their physiological health.
Nearly 100 people attended the event, including Zhang Jianmin, deputy secretary-general of the CWDF, officials from Guangdong Women's Federation and Guangdong Women and Children's Foundation, Zhou Hongyi, vice-president of Camsing Global, representatives from beneficiary schools and media staff.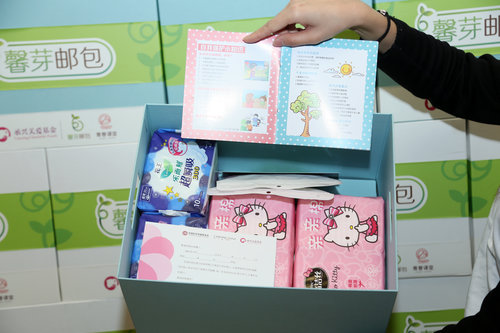 One of the charity parcels filled with a brochure on knowledge of physiological health and sanitary towels [Women of China/Fan Wenjun]
(Women of China)