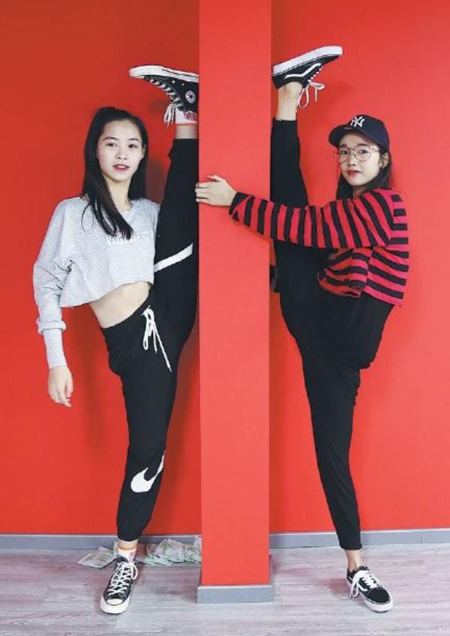 Yu Ziyu (left), 20, and Meng Huan, 21, show their agility at a training session. [China Daily]
An increasing number of Chinese entertainment companies and agencies are recruiting youngsters wanting to become pop idols. This is due to the influence of the multi-billion-dollar K-pop industry in South Korea, which has global appeal.
These young potential idols, known as lianxisheng (trainees) in Chinese, live in dormitories and train intensively together, often starting when they are teenagers. However, despite all the efforts they put in, there is no guarantee that they will make it to the big time, either as soloists or as groups.
"I have loved singing and dancing since childhood and I wanted to give this a try," said Yu Yangzi, adding that her mother was the only one in her family who supported her goal of becoming a singer-dancer. "But since I really want to do it, they've all agreed."
Five Singles Released
Unlike the three women with I.E.One Entertainment, who are just starting their training, the six boys in the pop group Boy Story have already built a fan base, not only in China but globally.
Produced by the K-pop label JYP Entertainment, its China subsidiary NCC Entertainment, and Tencent Music Entertainment, the Boy Story lineup is Jia Hanyu, 14; Li Zihao, 14; He Xinlong, 13; Yu Zeyu, 13; Gou Mingrui, 12; and Ren Shuyang, 11.
After two years of training in South Korea, they have released five singles since last year. One of their songs, Enough, which is hip-hop based, has received nearly 3 million views on YouTube since being released in September.
When they showed up at a house at a compound on the outskirts of Beijing recently, where they have lived and trained since September, the six displayed their dancing and singing skills and even performed somersaults.
"It's really frustrating when we cannot do the dance moves in unison, so we just keep practicing again and again," said Jia, the group's leader.
He was born and grew up in Zhumadian, Henan province, and stood out among hundreds of his peers when the companies launched auditions in his hometown.
"I like watching pop groups perform because it's really cool to dance like that. I want to dance like them," added Jia, a hip-hop music fan and winner of national street dance competitions.
Li, who comes from Tianjin, said: "We made our debut at the Hong Kong Coliseum in October last year, which was very exciting. We were close to the audience and we felt proud because we didn't make any mistakes onstage."
The youngsters are studying at an art school in Beijing, and after lessons they soon find themselves back in a classroom for singing and dancing training. This will continue if they are signed by a major label.
Si launched I.E.One Entertainment in August to focus solely on discovering, training and managing young Chinese idols. "Despite the intensive training and fierce competition, more and more young Chinese are becoming lianxisheng," he said.
It has long been Si's ambition to produce Chinese pop idols who go on to find worldwide fame.
He said that apart from the three young women, the company trains three men of similar age who will hopefully perform as a group.
"Some of the lianxisheng won't make it and some of them quit because the training is too harsh," Si said. "Only those who work hard and have real talent will stay and get the chance to become idols."
The 40-year-old Beijing native formed the idea to launch Chinese pop groups in 1996 after he became interested in K-pop.
" When I was 20, I had a girlfriend from South Korea. We often hung out around Beijing's Wudaokou area, which has lots of universities and foreign students," Si said. "I noticed that those students listened to K-pop and dressed like K-pop stars, and this inspired me. Chinese young people also love music. Why not have our own pop groups?"
From 1998 to 2008, Si worked in Beijing with one of South Korea's largest entertainment management agencies, S.M. Entertainment, and became involved in bringing K-pop stars to China, such as H.O.T and Baby V.O.X.
A turning point for the Chinese pop industry came in 2005 when some young musicians rose to become big stars on the reality TV singing competition Super Girl aired by Hunan Satellite TV.
Audiences voted for their idols, propelling Li Yuchun, who was studying at the Sichuan Conservatory of Music in Chengdu, to national fame.
In 2007, Si joined E.E Media, a big name in China's entertainment industry - which produced the Super Girl competition - and launched a Chinese male group, Top Combine.
He said: "The need for and creation of pop groups has never stopped in China. Compared with young people who wanted to become pop stars about 15 years ago, the younger generation is taking more initiative.
"They know what they want and they work hard to achieve their goals. It's just like teenagers who train to become athletes. They start from a young age, have their own athletics idols and work hard to win."
One of the biggest stars in Si's company is Duan Aojuan, a 17-year-old singer from Sichuan province, who is a member of the group Rocket Girls 101.
As one of 11 young women selected from the reality show Produce 101, released on Tencent's video platform this summer, Duan has more than 3 million followers on her Sina Weibo account.
Idol Producer, a male counterpart of Produce 101 launched by the online streaming service iQiyi in January, also led to the birth of the nine-member boy group Nine Percent. The show highlighted the intensive training the competitors went through and their individual talent.
Fans interact with their idols and vote for them via social media.
On November 12, Nine Percent gave a live performance at M Space, a popular venue in Beijing, to about 500 screaming fans. The show was also streamed live through online platforms by Tencent Music Entertainment Group, netting more than 15 million views.
Qi Qi, a 20-year-old woman from Beijing, who went to Nine Percent fans' meetings and other public events, said: "I became a big fan of theirs after I watched the show. They worked so hard and they are so talented. Their songs deliver positive messages of individuality, ambition and hope. Their performances onstage are so cool.
"It's like witnessing our mutual dream coming true together, which make the fans feel connected."
Zhang Pengfei, general manager of Future Star Creator Culture Media, a Beijing agency that also trains young talent, said: "It's true that these reality shows, which give birth to young idols, are attracting more and more young Chinese to become lianxisheng. This brings hope to those who want to become stars.
"For the Chinese market, these young idols have to be versatile. Their fans want them to sing, dance and act. So they have to work hard." Zhang's company has recruited 20 trainees, selected from more than 1,000 candidates since March. The trainees, who are 17 to 22 years old, receive strict training based on their talent.
Besides training for 12 to 14 hours every day, they also attend a psychological counseling program every two weeks.
"Confidence is important for them because years of training can be boring. We want them to have a healthy mindset about fame," Zhang said.
Guo Xinbo, vice-president of JC Universe Entertainment, a Beijing company that manages young pop idols, said companies on the Chinese mainland hire teachers from Hong Kong, South Korea and the United States to train the youngsters. It often takes at least two years before a trainee is ready to perform in public.
Guo Ying, better known by her stage name Yamy, who is also one of the members of Rocket Girls 101, is one of those managed by JC Universe Entertainment.
Guo Xinbo said the young idols rely on the "fan economy", which refers to the value and revenue generated by the interaction between fans and idols.
"We want to recruit young people who not only dance, sing and act but also have their own skills, such as songwriting. The ability to write and produce songs on their own would be a great advantage to confront criticism about pop idols from large entertainment agencies. These multi-talented artists can make themselves unique."
(Source: China Daily)