Chinese stars Zhao Tao (left) and Liao Fan headline Jia Zhangke's latest directorial film Ash is Purest White. [Photo provided to China Daily]
The 71st Cannes Film Festival has a strong Chinese presence this year with many Chinese stars seen on opening night and director Jia Zhangke's latest movie Ash is Purest White shortlisted for the Palme D'Or .
Meanwhile, Taiwan actor Chang Chen-who has had nine films nominated or screened in Cannes over the past two decades, is on the nine-member juror panel presided by Cate Blanchett.
Speaking about the things he plans to do at Cannes, Chang says he will help the other jurors understand Asian cinema better, and that he will not treat the four nominated Asian films differently.
Besides Jia's Ash is Purest White, the other Asian films selected for the official competition are South Korea director Lee Changdong's Burning; Iranian director Jafar Panahi's Three Face and Japanese director Hirokazu Kore-eda's Shoplifters.
Ash is Purest White is defined by its director as a romance which spans 17 years from 2000.
The film, starring Zhao Tao, Jia's wife and Liao Fan, a Berlin International Film Festival's best actor winner for Black Coal, Thin Ice, will have its world debut in Cannes on Friday.
Ash's cast also includes actor-director Xu Zheng, known for the blockbuster Lost franchise; and Feng Xiaogang, a pioneer who has reinvented Chinese commercial films.
The film, which was shot in four months in Datong, Shanxi province, and the Three Gorges Dam area and the Xinjiang Uygur autonomous region, has some elements from Hong Kong gangster movies and martial arts films.
Jia was not on Cannes' red carpet, but his film's stars Zhao and Liao appeared in the spotlight. And joining them were singer-actress Li Yuchun, actresses Ma Sichun and Fan Bingbing, also a juror at last year's 70th Cannes festival.
Separately, Chinese director Bi Gan has Long Day's Journey into Night selected for the Un Certain Regard competition of the festival.
The film, starring Tang Wei, Sylvia Chang, Huang Jue, Lee Hongchi and Chen Yongzhong, is about a man who returns to his hometown to seek a mysterious woman whom he spent an unforgettable summer with more than a decade earlier.
Tang, the Chinese star who shot to prominence for Ang Lee's Lust, Caution, says she is privileged to be part of Bi's work.
Bi shot to fame with his directorial debut Kaili Blues (2016), an arthouse feature set in the young director's hometown in Guizhou province.
As for the other Chinese links in Cannes, the Spanish psychological thriller Everybody Knows featuring Penelope Cruz and Javier Bardem-which is the festival's opening title, has a Chinese investor backing it.
Xu Bin, the co-founder of the Beijing-based film company Hishow Entertainment, says the company decided to finance the film as they've always admired the Iranian director Asghar Farhadi, a two-time Oscar winner for best picture.
The movie is planned to be imported into China.
The increasing Chinese influence in Cannes, the world's top movie event, is being sensed by visitors there.
Among them is actor Matthew Knowles, who has starred in Chinese film Asura, which made it to the cover of Variety magazine.
Speaking about the mood at the Cannes festival-which began on Tuesday and ends on May 19-he says: "The interest in Chinese cinema is growing. There is definitely a strong Chinese presence here. I hear Chinese everywhere I go."
Knowles' film, made for 750 million yuan ($118 million), is about a mythical realm.
Knowles, who is in Cannes to strike deals for future projects, says it's interesting to see ordinary people on the French Riviera getting interested in seeing Chinese films.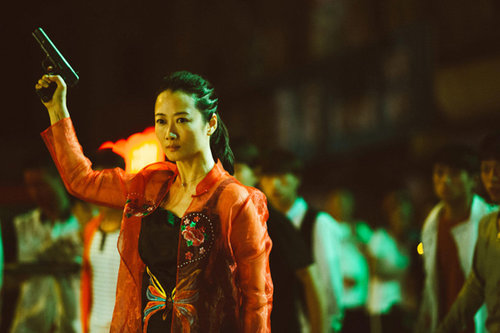 Ash is Pure White recounts a romance spanning 17 years. [Photo provided to China Daily]
(Source: China Daily)