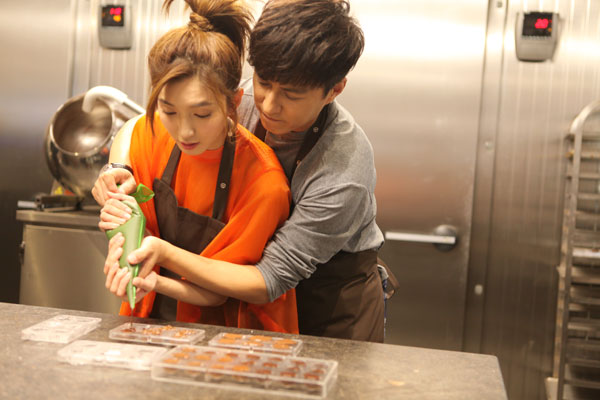 Actor Jin Dong and actress Jiang Shuying flew to Belgium to shoot romantic scenes for their love series Mr Right. [China Daily/Fu Jing]
The award-winning actor Jin Dong and actress Jiang Shuying flew to Belgium to shoot romantic scenes for their love series Mr Right, which is expected to hit TV screens soon.
Chocolate, beer and diamond, Belgium's national treasures, were the ideal accessories for their love story and the nine-day shooting mainly takes place in Antwerp, the so-called global capital of diamond cutting and trading.
Two scenes were filmed in a bar of De Coninck brewery and adjoining chocolate shop in downtown Antwerp. The Chinese crew team, consisting of about 80 members, will also shoot in the Port House and shopping streets of Antwerp.
Jin and Jiang are main stars of the popular series Mr Right, which is about a dentist who offers love advice to other men. Jin has millions of fans in China as he always plays the role of "model man" in movies or TV series.
"To give my audience something inspiring is my mission," said Jin during an interview with China Daily on Wednesday. "Nowadays, this kind of cross-cultural communication is vital for each country to boost mutual understanding."
Jin, 41, said being an actor he can play such a role, especially in helping bridge gaps between China and Europe, two large civilizations.
The series producer is Jia Yiqun, who was an exchange student in Antwerp during 2002-04. Antwerp province and Shaanxi province entered into sister province partnership 30 years ago.
Jia said that Antwerp's most well-known products such as chocolate, beer and diamond symbolize the bitter-sweet taste of love.
Kristoff Leue, CEO of the Belgium-based Sancta Media and Jia's business partner in Europe, said the producer had personal reasons to choose Belgium and expect that shooting in Belgium will be valuable.
"The series is about love story. For Belgium, there is brewery where they brew the beer. There are chocolate shops as sweet as love can be. And it produces diamond which symbolizes eternal love," said Leue.
With huge viewers and fans of this series and stars, the mayor of Antwerp Bart De Wever told the Belgian media that shooting in Antwerp will be invaluable publicity for his city. "You should not underestimate the impact of such a series," he said.
Leue said De Wever is ready to welcome Chinese people to take wedding pictures in his city. "The series started with a wedding party in Belgium. So I am sure it will inspire Chinese people to take some wedding pictures here," said Leue.
Maarten Heyvaerts, owner of a bicycle shop opposite the brewery, said he believes what the mayor said and expects more Chinese tourists will come to Belgium.
"Our shop and the brewery are about one kilometer from the downtown," said Heyvaerts. "The series will bring us closer to China."
(Source: China Daily)