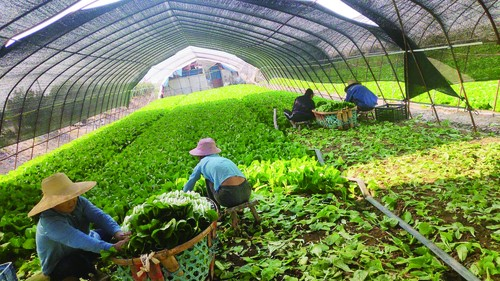 Women villagers resume production in a local agricultural cooperative in Wuhan, capital city of Central China's Hubei Province, on March 22. [China Women's News]
Fu Yong, owner of an agricultural cooperative in Wuhan Airport Economic Development Zone, in Wuhan, capital city of Central China's Hubei Province, led a group of 50 women in spring ploughing in an orderly manner, on March 22, as Wuhan has reported zero new confirmed and suspected cases of novel coronavirus (COVID-19) infection and zero existing suspected cases for several consecutive days.
The cooperative members have resumed production of fast-growing vegetables such as lettuce, Chinese flowering cabbage, and Chinese cabbage on about 800 mu (533,000 square meters) of farmland to ensure enough supplies of agricultural products for local communities.
The cooperative has also developed a mode of instant picking, packaging and delivery in the same day and joined hands with e-commerce platforms, so it is convenient for the local residents to purchase fresh vegetables online.
During the outbreak of the COVID-19, the cooperative supplied products to more than 150 communities and some shopping malls in the city, with all the members working from 7 am to midnight, in a bid to ensure that all the orders would be delivered on time.
As an enterprise involved in the local government's vegetable basket project, which was initiated to improve the supplies of agricultural products to residents, the cooperative has also delivered its products to 80-plus government organs and units in Wuhan, including hospitals, welfare houses and nursing homes.
(Source: China Women's News/Translated and edited by Women of China)