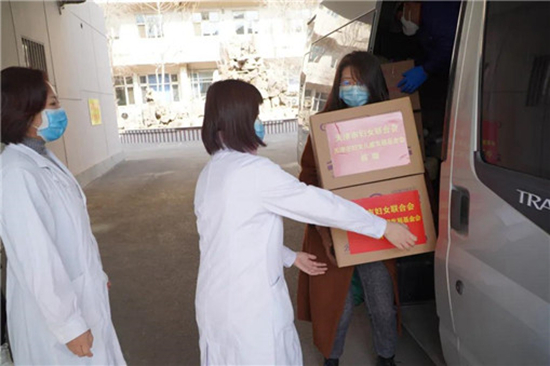 Sanitary products are provided to frontline female medical workers. [For Women of China]
"Thanks to the assistance from the women's federation, I no longer worry about my children and parents at home. Instead, I am much more emboldened on the frontline," said a doctor in a recent phone call to the Women's Federation of Xiqing District in North China's Tianjin Municipality.
Jia Cuiting is a member of the medical team from Tianjin to help fight against the novel coronavirus disease (COVID-19) in Wuhan, the epicenter of the outbreak of the epidemic and the capital city of Central China's Hubei Province.
Under the coordination of the Tianjin Women's Federation and the district's women's federation, Jia's husband has been allowed by his employer to work from home. It helps him balance his work and attendance to their young children and elderly people.
The municipality's women's federation has been adopting a collection of measures to take care of the families of medical workers like Jia who are fighting against the virus on the frontline and to help them concentrate on their work ever since the outbreak of the disease in Wuhan in late January.
The municipality's women's federation has worked with local women entrepreneurs and volunteers to deliver free and fresh vegetables to the families of medical workers and to provide them with necessary assistance when they meet with difficulties and problems in daily life.
Apart from setting up hotlines, the federation has offered online courses to help frontline medical workers and their families better cope with psychological problems amid the epidemic.
The federation invited education experts and teachers to give family education courses online. Various activities, including displaying parent-child games, singing epidemic-prevention songs and giving guidance on family reading, have been organized based on the online platforms of the parents' schools.
Furthermore, the Tianjin Women and Children's Development Foundation has allocated a special fund to provide housekeeping services for the female medical workers' families in need.
(Women of China)