Since the outbreak of the novel coronavirus (COVID-19), women lawyers across the country have joined the battle against the virus. Some helped deliver materials, some raised or donated money and supplies, some brought legal assistance and some gave care to the patients infected with the COVID-19.
E China's Jiangsu Province
On February 1, the Jiangsu Women Lawyers' Working Committee announced an epidemic prevention and control proposal and a fundraising proposal.
Women lawyers in East China's Jiangsu Province actively responded to the proposals. They publicized legal knowledge, and they provide legal service online. They also donate money and materials valued at nearly one million yuan (US $143,472.02) to Jiangsu Women and Children's Welfare Foundation and other institutions to support Wuhan, capital city of Central China's Province and epicenter of the novel coronavirus outbreak, and other epidemic-stricken areas.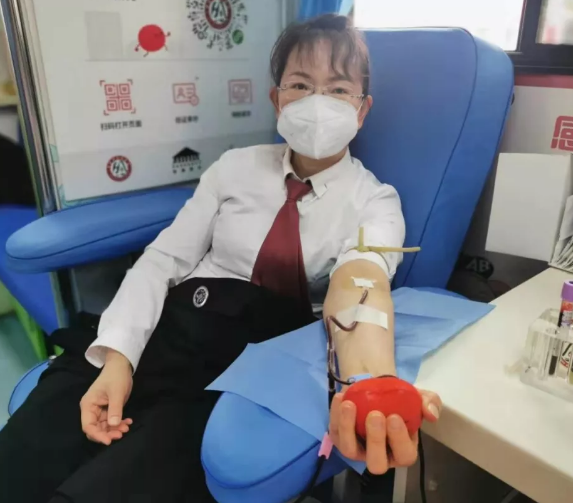 A volunteer lawyer donates blood. [For Women of China]
Women lawyers in Huai'an City in Jiangsu have not only donated money and materials but also donated blood.
Fifteen women lawyers in Xuzhou City in the province launched a hotline to provide psychological assistance and consultation on health and rights protection for women and children with the support of the local women's federation.
Two women lawyers hold a banner of the charity alliance of women lawyers in Huai'an City, East China's Jiangsu Province. [For Women of China]
Women lawyers in Yancheng City served as volunteers to help check people and cars and to measure residents' temperature in communities. They also donated disinfectant, masks and protective gear, and they handed out publicity materials about the epidemic prevention efforts to communities.
A volunteer lawyer checks a resident's temperature. [For Women of China]
SW China's Guizhou Province
Shi Jin, a lawyer in Guiyang, capital city of Southwest China's Guizhou Province, established an online sharing group to explain the important legal issues concerning the COVID-19 for small and medium-sized companies, which was well received by more than 200 entrepreneurs.
SW China's Sichuan Province
The Sichuan Lawyers Association together with female worker committees across the Southwest China's Sichuan Province set up a team to fight against the epidemic. They fully implemented the prevention and control measures of the COVID-19, calling on women lawyers to strengthen self-protection and provide professional legal services to residents.
Women lawyers in the province have raised more than 350,000 yuan (US $50,215) as of February 7. About 100 professionals have provided legal advices to companies and government departments on fighting against the epidemic and maintaining production.
Women lawyers donate masks. [For Women of China]
(Sources: Organization Department of the All-China Women's Federation and the Women Lawyers' Association of the All-China Lawyers Association/Translated and edited by Women of China)