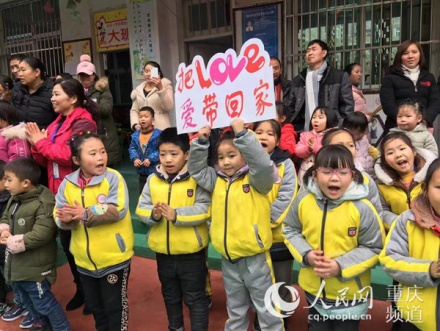 On January 9, the Women's Federation of Chongqing Municipality launches an activity at a primary school in Pengshui County to bring care to disadvantaged children. The activity is a part of "Taking Love Home" nationwide campaign launched by the All-China Women's Federation and relevant departments and organizations. [people.cn]
Nearly 7,000 children aged 6-16, including orphans, de facto orphans and impoverished, left-behind children (whose parents have migrated to other places for work), from 14 national-level poverty-stricken counties in southwest China's Chongqing Municipality will receive gifts — "Happy Health Packages" — from the Women's Federation of Chongqing Municipality.
The "Happy Health Package" contains sports goods such as a basketball, badminton racket, skipping rope, sports bag and Chinese checkers.
The activity is part of a nationwide campaign titled "Taking Love Home" launched by the All-China Women's Federation, the Ministry of Education, the Ministry of Civil Affairs and several other departments and organizations last December, which aims to bring care to disadvantaged children during the winter vacation and the Spring Festival.
The students in the Baiyun Primary School in Pengshui County were the first group of the receivers of the gifts, who received them at the kick-off activity held at the school on January 9, 2020.
"I like rope skipping most. If I skip often, I can grow taller," said Tingting, a 9-year-old schoolgirl at the primary school.
"This is a big surprise and encouragement for us," said Yanyan, a 13-year-old girl. Even though her father passed away and her mother left home, she loves studying and achieves an excellent academic performance. She said that with the care of so many people she will study hard to go to college and become a math teacher in the future.
"These sporting goods are precious gifts for children in poverty-stricken areas, especially disadvantaged children," said Liao Guohong, a woman volunteer and vice-president of the Family Education Research Association of Pengshui County.
The federation will also carry out activities to promote good family traditions, publicize legal and safety knowledge and bring social care to disadvantaged children before the Spring Festival.
The nationwide campaign "Taking Love Home" centers on reunion, happiness and love, which are the characteristics of the Chinese New Year. Three activities, namely "Taking Good Family Traditions Home," "Taking Law and Safety Home" and "Taking Social Care Home" will be held during the campaign.
Officials of the women's federations, family education experts, and directors of children's affairs in relevant departments will visit disadvantaged and left-behind children and give guidance and assistance according to their conditions.
Volunteers and children play together during the activity at the Baiyun Primary School in Pengshui County, Chongqing, on January 9. [people.cn]
(Source: China Women's News/Translated and edited by Women of China)