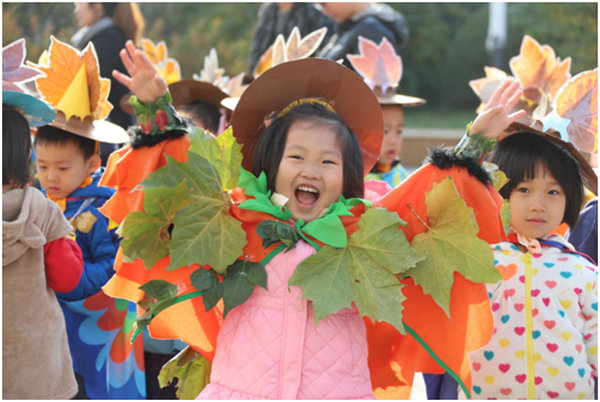 An autumn trip is held at the China National Children's Center in November 2019. [China National Children's Center]
An action plan aiming to develop children's good thinking, good behavior and good habits with the families' support has been well received by the families across the country since it was initiated by the Preschool Education Department of the China National Children's Center in January 2019.
The action plan calls on kindergartens, families, communities and all of society to make joint efforts in nurturing children.
In order to better guide the parents, the department compiled some guidelines and brochures on nurturing children aged 3-6 with moral education by their parents and on the interaction between kindergartens and families.
More than 20 typical issues, such as patriotic education and health care for kindergarten kids, are covered to address parents' concerns.
All the indexes and typical performance for children's development in thinking, behavior and habits have been clearly defined, to make the goals visual and practical for parents to follow.
Various activities, such as parent-child games and family tours to revolutionary sites have been held to strengthen children's moral education.
Statistics show that more than 1,000 children and their families have already taken part in the action.
Parents tend to agree that the activities designed for the action plan not only help build the children's bravery, tenacity, tolerance, diligence and love for the motherland, but also arouse a sense of responsibility in parents, families and society.
Parents are also encouraged to share their experience in educating their children while the children with good thinking, behavior and habits are given an opportunity to demonstrate their progress.
According to the results of a questionnaire, more than 94.5 percent of parents consider the activities to be useful for their children.
At the end of 2019, the practice mode of the action plan was selected as an innovative case of the minors' moral education in Beijing by the authority.
(Source: China Women's News/ Translated and edited by Women of China)