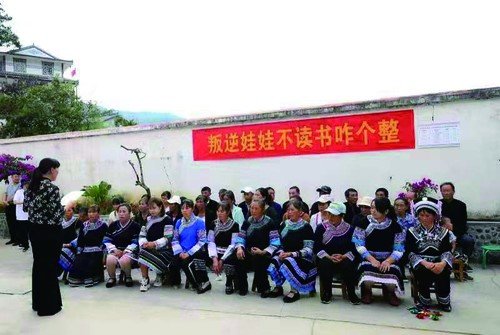 Local women attend 'Mum Class.' [China Women's News]
What should we do when our children grow rebellious and become reluctant to study? This is a problem that many mothers and families have to face.
With this issue in mind, many rural mothers in Xiaohebian Village, Luoping County, Qujing City, in Southwest China's Yunnan Province, recently attended an inspiring family education class, in which the teacher explained the psychological development of rebellious teenagers and how to deal with it.
This is one of ordinary classes of the "Mum Class" project in the county.
The All-China Women's Federation (ACWF) launched the Family Happiness and Well-Being Campaign in May 2019, aiming to urge women's federations nationwide to give full play to women's unique role in social and family life, and promotion of family virtues of the Chinese nation, and establishment of good family traditions.
In Qujing City, the first "Mum Class" was established in Xiaohebian Village, to explore effective methods of quality family education and to help local women play a better role of mothers in the family.
The "Mum Class" project features flexible classroom sites and various content, offers a series of training activities to improve women's ability to mediate and handle marriage and family relationships and safeguard their rights, and enhance the quality of family education.
Fang Min, president of the Luoping County's women's federation, said that the project has effectively met the needs of local women and solved the difficulties of organizing large-scale training.
"It is truly flexible in terms of training time, locations and content, helping improve training effectiveness and save training costs," Fang added.
In Luoping, any place can become a classroom for the convenience of local women to get training.
A "Mum Class" sponsored by a local clothing company in Banqiao Town has been established under the guidance of the local women's federation.
The project provides a variety of training activities on women and children's rights protection, poverty alleviation, technical skills, entrepreneurship and employment, health, family traditions and family education, improvement of villages' environment, and rural civilization, to meet the diverse needs of 122 local women hired by the company.
The women's federation's officials and social volunteers serve as regular lecturers for the training.
In addition, women's federations coordinate with the departments of education, human resources and social security, agriculture, forestry, culture, science and technology, and justice, as well as marriage and family consulting agencies, to form a comprehensive and professional teacher lineup.
The project has led to women and families being changed in a subtle way. As women improve themselves, the family relationships are becoming more harmonious.
"I hope there will be more training. It is of great help to us," said a woman. "We used to play mahjong and poker in our leisure time, but now we use most of our free time in study and self-improvement."
(Source: China Women's News/Translated and edited by Women of China)