Representatives of the most beautiful families [For Women of China]
A touring lecture on good family traditions, launched by the All-China Women's Federation, was held recently in Northeast China's Jilin Province, presenting a number of touching stories of the most beautiful families of Chongqing Municipality and Hunan, Shandong, and Jilin provinces.
Sheng Lijun is a representative of the most beautiful family of East China's Shandong Province. Her father is an outstanding doctor who has been supporting her mother and mother-in-law for decades, which sets a model of respecting for the elderly and having passion for work for the next generation.
Sheng Lijun tells her family story [For Women of China]
He Fangjing came from Central China's Hunan Province. After retirement, he held family meetings for 24 years and guided children in their life and work. His children and grandchildren are happy in their families and have contributed to scientific research and education.
He set up education aid funds for students that have awarded 134 students enrolled by key universities and assisted 160 children from impoverished families. He has spent more than 1.2 million yuan (US $168,700) in helping students in need.
Yang Zhigang from one of Chongqing's most beautiful families told the story of his father and son who were devoted to poverty alleviation work and died where they worked. The three generations of Yang's family embodies the spirit of the loyalty for the nation and the people.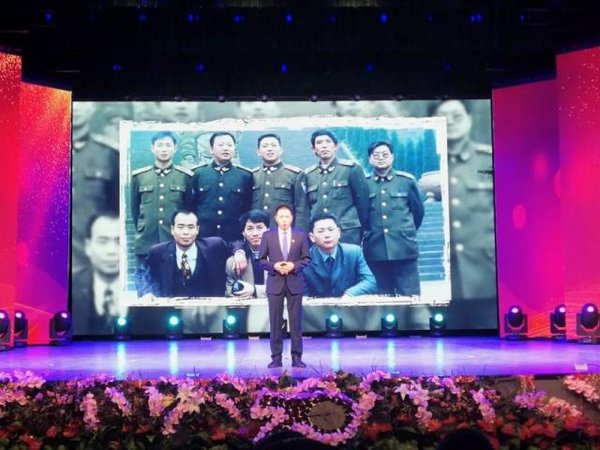 A representative of Yang's family [For Women of China]
Liu Jinhui is a teacher. His father participated in China's revolutionary wars and his mother worked for the women's organization for saving the country. After retirement, Liu revisited his parents' revolutionary path by visiting the revolutionary-martyrs memorial halls in Yan'an, Jinggangshan, Tianjin and Shanghai. He tried to spread the Red Culture and the stories of the revolutionary martyrs by serving as a voluntary lecturer for many years. He has given more than 200 lectures, written over 600 articles, published four collected works, created 14 micro films and set up 14 community book houses in the past years. He was reputed as a "spiritual mentor" for spreading positive energy.
Liu Jinhui tells the story of his family. [For Women of China]
The touring lectures also included the stories of different families' efforts in protecting the environment, banning betrothal gifts and changing outdated customs, as well as educating students to help them grow more healthily.
More than 1,200 listeners were moved by the stories and some shed tears.
The touring lecture activity used modern media forms to publicize socialist core values and good virtues of the nation, guiding every Chinese family to establish good family environment and realize their dreams of happy lives.
(Women of China)