A childcare center in the Hongqiaozhen Community in Shanghai [China Women's News]
The Shanghai Women's Federation together with government departments in Shanghai has been striving to provide more childcare centers in communities since 2017, aiming to promote implementation of the country's two-child policy.
In early 2016, the federation entrusted Fudan University with the task of researching the implementation of public nursing policies.
According to the findings, 88.15 percent of families are in need of infant nursing services and 73 percent of them hope such services will be provided in their communities.
The Shanghai government aimed to build 20 childcare centers in communities each year in the 2017 to 2018 period, which was one part of its livelihood projects.
Accordingly, every district in downtown Shanghai is required to build at least two childcare centers, and each suburban district is required to build one. In addition, each community should be equipped with a childcare center of more than 200 square meters.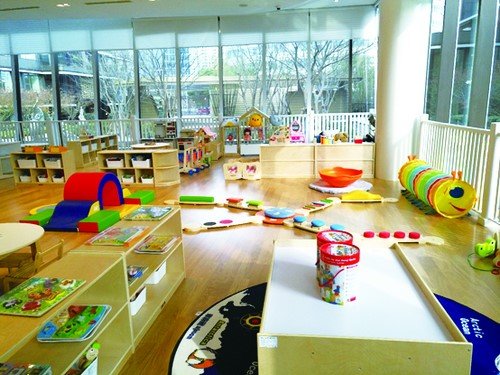 A childcare center in Shanghai [China Women's News]
Gu Xiujuan, director of the department of Family and Children's Affairs of the Shanghai Women's Federation said affordable and diversified services would be provided to children aged 2-3, and the centers would be developed with both public and private resources. "The cost of full-time childcare services would not exceed 3,000 yuan (US $421.24) per month," she added.
To ensure the quality of the new childcare centers, the federation established expert supervision teams to give guidance and supervision and to examine possible safety risks during the construction of the centers. It also entrusted local early education centers to design courses and handbooks for community child care centers and organized pre-post training for centers' employees to increase their professional level.
Over the past three years, a total of 97 childcare centers, which can serve up to 3,009 children, have been established in Shanghai. Many of the service providers gained their licenses through the joint efforts of market entities and social resources.
(Source: China Women's News/ Translated and edited by Women of China)