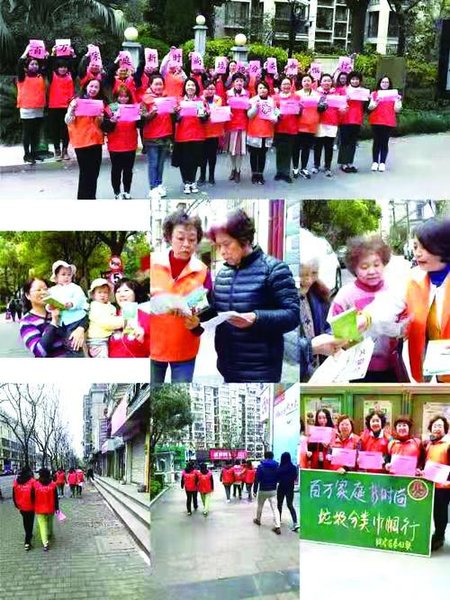 Women's federations at all levels in Shanghai organize various activities to teach families about garbage sorting regulations and the precise classification practices. [China Women's News]
A municipal regulation on waste management has made garbage sorting and recycling more popular than ever in Shanghai.
Since the regulation took effect on July 1, the Women's Federation of Shanghai Municipality has done all it can to raise awareness of household garbage sorting among local families.
Families produce a lot of garbage, and household garbage sorting is crucial to effectively reducing the pressure put on waste disposal.
To promote garbage sorting and encourage more families to participate, the Women's Federation of Shanghai Municipality issued an action plan to pushig household garbage sorting, calling on women's federations at all levels in Shanghai to make efforts in promoting the classification of domestic waste. The efforts have affected 8.25 million households in the city's 16 districts.
Looking to increase awareness of garbage sorting, women's federations at the district level carried out various activities in different towns and organizations.
"Families are crucial to the success of garbage sorting, and they are becoming increasingly aware of its importance, which bodes well for the effective implementation of the regulation," said Liu Qi, Vice President of Women's Federation of Shanghai Municipality.
Through traditional and new media channels, the women's federations in Shanghai have released news reports, successful cases and videos promoting garbage-sorting methods, and have launched many garbage-sorting activities in the communities.
According to statistics, over the first half of this year, the women's federations at all levels in the city selected about 24,400 model households through garbage-sorting activities, trained 16,000 domestic workers, and recruited more than 120,000 family volunteers.
A total of 7,399 garbage-sorting-regulation promotional activities and about 16,300 publicity activities were carried out, with nearly 360,000 and more than 1.1 million people participating, respectively.
(Source: China Women's News/Translated and edited by Women of China)