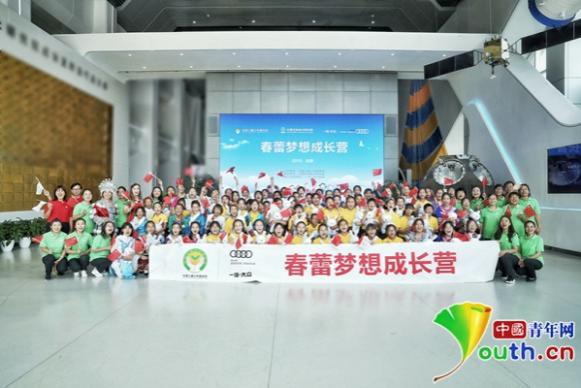 A group photo of Spring Bud girls participating in a camp activity in Beijing. [CCTF]
The China Children and Teenagers' Fund (CCTF) launched a summer-camp activity in Beijing for girls sponsored by the Spring Bud Project.
Eighty Spring Bud girls from eight provinces and autonomous regions, including Qinghai and Guizhou provinces and the Xinjiang Uygur, Guangxi Zhuang and Inner Mongolia autonomous regions, took part in the event.
By offering patriotic and traditional culture study and practice activities, the camp aimed to help Spring Bud girls broaden their horizons, set up their dreams, and enhance their moral cultivation and social responsibility.
Zhu Xisheng, Secretary-General of the CCTF, said at the closing ceremony of the activity that students in the camp have received care and love from people in all walks of life. He hoped they would study hard and take up their responsibilities.
During the activity, the Spring Bud girls visited the Palace Museum, the China Academy of Space Technology, the China Science and Technology Museum and the Juyongguan Great Wall, and they watched a flag-raising ceremony at Tian'anmen Square.
"I am very lucky to participate in the camp, and I will share what I saw with friends when I go back home. We will study hard to become useful persons in the future," said a Spring Bud girl attending the activity from a middle school in Xinjiang.
In 1989, under the guidance of the All-China Women's Federation, the CCTF launched the Spring Bud Project to help girls in poverty-stricken areas continue their studies and improve teaching conditions in these areas.
So far, the project has aided more than 3.6 million impoverished girls to return to school, built 1,811 Spring Bud schools, provided vocational education and training to more than 527,000 girls, and compiled 2.17 million safety manuals for school girls.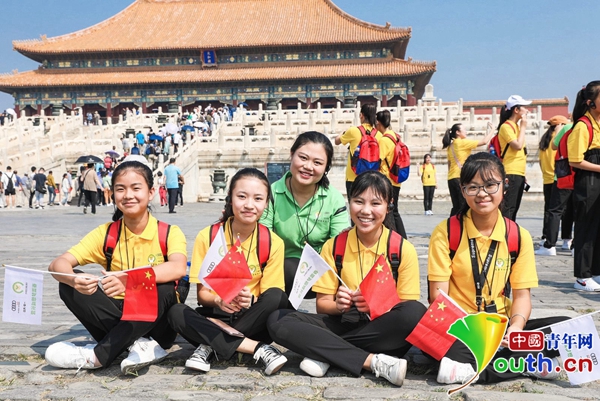 Spring Bud girls visit the Palace Museum during the camp activity held in Beijing. [CCTF]
Spring Bud girls fly paper planes in the Beijing Olympic Park. [CCTF]
Spring Bud girls visit the Juyongguan Great Wall. [CCTF]
The Spring Bud girls visit the China Science and Technology Museum. [CCTF]
(Source: youth.cn/Translated and edited by Women of China)