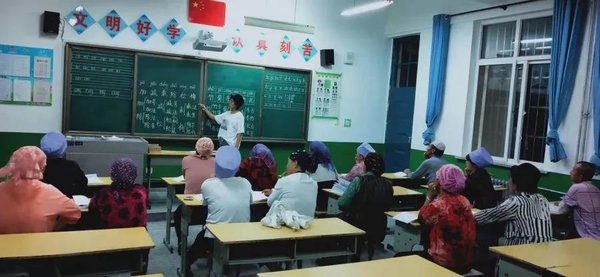 Rural women in the Ningxia Hui Autonomous Region, Northwest China, learn how to read in literacy training initiated by the local women's federation. [nxnews.com]
The Women's Federation of Ningxia Hui Autonomous Region, Northwest China, launched literacy training for rural women aged 15-50 to help improve women's quality and build their confidence in getting rid of poverty.
To fight women's illiteracy in rural areas, the autonomous region's women's federation in July, 2018, allocated special funds and organized literacy training in the three pilot cities of Wuling, Wuzhong and Guyuan.
The literacy trainings were conducted by flexible classes adapted to the living and work requirements of local women.
In addition, to ensure good learning effectiveness, they featured practical teaching materials and activities, and employed Chinese teachers from primary schools and college students to work as tutors.
In 2019, the federation initiated a program of women's action for rural revitalization, making further efforts to improve the quality of lives of the rural women.
In June, it launched the female literacy training activity working with the region's education, human resources and poverty relief departments as part of its poverty relief efforts.
Women's federations at all levels in the autonomous region are also exploring creative ways for rural women to learn.
In the Huinong District of Shizuishan City, the poverty-relief workshops have organized morning classes where women workers learn how to read half an hour before work.
Literate women are also mobilized to teach neighbors how to read and write, and children are encouraged to help their mothers learn five Chinese characters per day.
The goal of the training program is to enable rural young and middle-aged women in the Ningxia Hui Autonomous Region to read 1,500 Chinese characters, enjoy simple books, and write short sentences.
(Source: China Women's News/Translated and edited by Women of China)