Women show their skills at the Yi embroidery exhibition on July 25. [Women's Federation of Chuxiong Yi Autonomous Prefecture]
Promoted by the Women's Federation of Chuxiong Yi Autonomous Prefecture and led by local skillful women, Yi ethnic embroidery has been passed down and revived with new vitality. The traditional ethnic technique has not only provided village women with opportunities to escape poverty but also evolved into a unique ethnic, cultural industry.
Recording and preserving the traditional technique and its culture for the purpose of developing the Yi embroidery industry and raising women's income is a key task of the prefecture's women's federation.
A Mingxian, President of the prefecture's federation, said that Yi ethnic embroidery provided a platform for rural women to display their ability and wisdom as well as eradicate poverty and find prosperity. She added that by the end of 2018, Chuxiong already had 58 associations and cooperatives of the Yi ethnic embroidery with more than 50,000 embroiderers, generating an output value of over 100 million yuan (US $14.26 million).
Yi ethnic women discuss embroidery skills at Xincun square. [China Women' News]
In 2008, women's Yi ethnic embroidery associations, at all levels, began being set up. Local embroidery companies and embroidering women started to unite together as well for future development under the guidance of the prefecture's women's federation.
The federation has also provided financial support to encourage women to run embroidery-related businesses. From 2013 to 2015, 3 million yuan (US $426,078) had been allocated to support the Yi ethnic embroidery industry.
Luo Jun, president of Miyilu Ethnic Clothing and Products Company, said their products had four main categorizations: business, domestic usages, luggage and cultural creativity. They all integrate modern elements into Yi ethnic embroidery to form a unique style.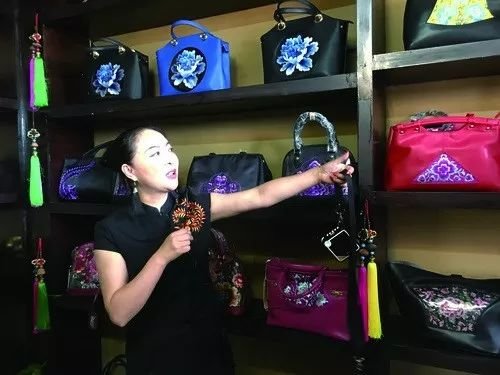 Luo Jun introduces her company's products. [China Women' News]
Yi ethnic women have laid a good foundation for the cultural inheritance and the development of the Yi ethnic embroidery industry. Li Yunyan, director of the Chalimo Village Committee, said their village had 600 to 700 female embroiderers, most of whom started embroidering when they were 3 or 4.
From 2017 to 2018, the Women's Federations at all levels in Chuxiong invested nearly 500,000 yuan (US $71,014) to organize more than 90 training courses for over 6,000 women. The continuous training not only lays a solid foundation for the inheritance and innovation of the Yi ethnic embroidery, but also increasingly improves women's skills and raises their income.
In 2014, the embroidered table flags and meal mats designed by Luo were awarded with UNESCO's Outstanding Handicraft Badge. The Yi ethnic embroidery products manufactured by Miyilu and similar companies have all been well received by the market.
With the promotion of local women's federations, the Yi ethnic embroidery is revitalizing with new power.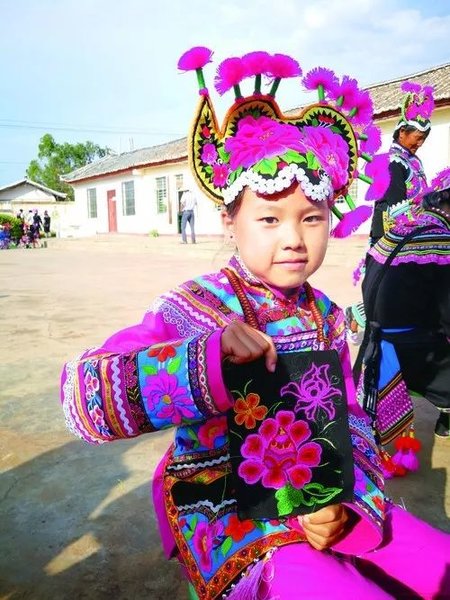 A girl of the Yi ethnic group shows her embroidery. [China Women' News]
(Source: China Women' News/ Translated and edited by Women of China)