Women leaders and members of the Women's Federation of Huangyan District, in Taizhou, help evacuate residents before the landing of Lekima. [China Women's News]
Typhoon Lekima landed in Chengnan, a town in Taizhou City, East China's Zhejiang Province last Saturday, bringing destruction and trapping residents in their homes.
The typhoon, the ninth and strongest of the year, has left 56 dead and 14 missing in Zhejiang, Shandong and Anhui provinces. Zhejiang was the worst hit as the typhoon made the first landing there, leaving 39 dead and nine missing.
Facing the strongest typhoon ever recorded in the past 70 years in China, women in Zhejiang fought fearlessly to safeguard the lives and properties of local residents.
Women in Taizhou persuaded local people from door to door to evacuate to safe shelters. They also tried to prevent potential risks of torrential floods and epidemic diseases after the typhoon.
Linhai ancient town in Linhai City, in Zhejiang, was severely waterlogged due to the flooding of the Lingjiang River. Despite tremendous dangers, women leaders and volunteers in Linhai stuck together to protect their hometown against typhoon Lekima day and night.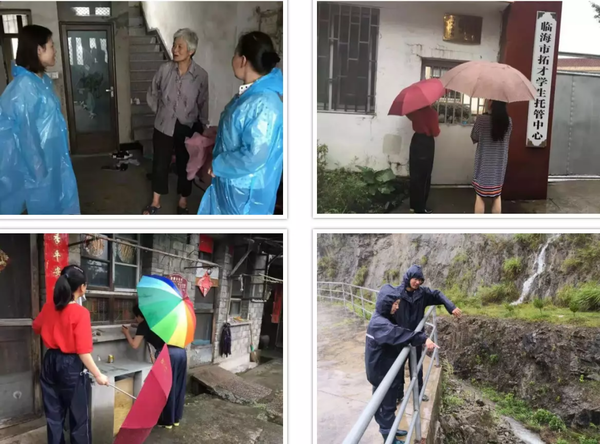 Women leaders and members from the Women's Federation of Linhai City take precautions before the typhoon strikes. [China Women's News]
Wenling City in Zhejiang suffered from Lekima as well. However, Wenling's Maternal and Child Health Care Center continued to send out ambulances despite the terrible road conditions and doctors operated on patients through the stormy night.
Women in Hangzhou, Wenzhou, Shaoxing and many other cities and areas throughout Zhejiang Province put their own safety aside to rescue, help and comfort victims of Lekima. They again proved their commitments to serve the people under extremely disastrous circumstances.
Authorities have mobilized dramatic rescue and relief efforts, with firefighters, soldiers, policemen and government agency staff searching for those missing.
On Monday, the country allocated 300 million yuan ($42.66 million) to help with rescue and relief work in Zhejiang, Shandong and Jiangsu.
Volunteers in Huzhou City help an elderly man to evacuate to safety. [China Women's News]
(Source: China Women's News/Translated and edited by Women of China)