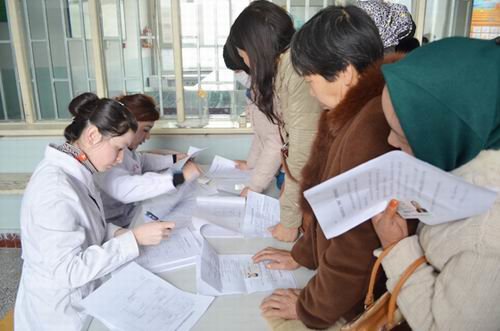 Women residents apply for the screening of breast and/or cervical cancer. [For Women of China]
On August 5, the government of Qianjiang City, in Central China's Hubei Province, offered 3.7 million yuan (US $524,139) to buy specific major illness insurance for 350,000 women aged 20 to 64 in the city.
Women covered by the insurance can make a claim if they suffer from breast cancer, metrocarcinoma and four other specific cancers.
Wang Yumei, Deputy Mayor of Qianjiang City, said that the local government has been paying great attention to women's health. Since 2015, the government has allocated 200,000 (US $28,571) yuan every year from its annual budget to help rural women suffering from breast cancer or cervical cancer, and it has provided 754,000 yuan (US $107,714) for 377 impoverished women.
The Women's Federation of Hubei Province has been exploring how to establish an all-round service mode that integrates basic insurance with women's commercial health insurance, with special and charity assistances as supplementary coverage.
In December 2017, the Hubei branch of the PICC Life Insurance Company Limited signed a strategic cooperation agreement with the province's women's federation to set up an improved provincial insurance-service system for women's specific diseases. By this July, the branch had signed cooperative agreements with 12 women's federations, at the municipal level, to provide women's specific disease insurance totaling coverage of 16.8 billion yuan (US $2.4 billion) for nearly 1.55 million women in the province. It has already paid 15.8 million yuan (US $2,257,143) of insurance claim to 1,360 women.
(Source: China Women' News / Translated and edited by Women of China)