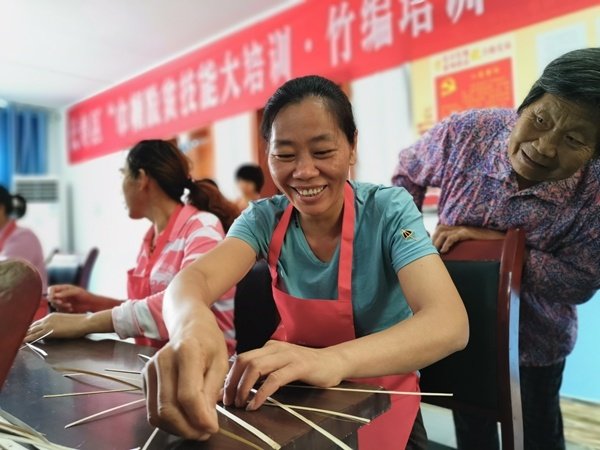 A woman in Datong Village in Yunji Town, Changshou District, Southwest China's Chongqing, learns bamboo-knitting skills under the guidance of a teacher. [China Women's News]
The Women's Federation of Changshou District in Southwest China's Chongqing Municipality initiated a training project for women on bamboo-strip knitting on July 5 to help them shake off poverty.
With the aim of improving their hand-knitting skills, the district's women's federation has encouraged over 70 local women in Datong Village in Yunji Town to participate in the training session.
"The women's federation has engaged a team of skilled bamboo-weaving craftsmen to provide a 'home delivery' teaching service to impoverished women, and the project will cover 10 local poverty-stricken villages," said Yang Hongmei, President of the Women's Federation of Changshou District.
"The federation will cooperate with the local employment bureau and the water conservancy department to organize more practical skill training sessions, including nursing, craft-making and e-commerce," she added.
Women in Datong Village received over 50 training courses in the first half of the year.
Debuted early this year, the training sessions on poverty-alleviation skills, restoration of living environments in rural areas, juveniles' mental health and family education have been provided to the local women, to improve their capacity of shaking off poverty.
"The training course on bamboo-strip knitting help the local women escape poverty, and the bamboo-knitting crafts help women improve their living environment. This is indeed double-benefit work," said an official of the women's federation.
(Source: China Women's News/Translated and edited by Women of China)