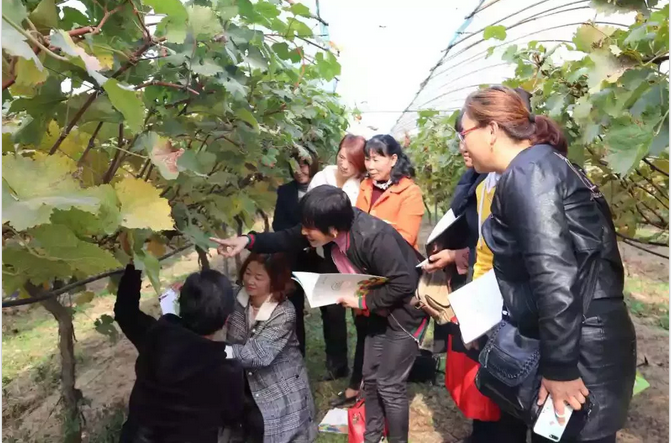 Local women learn about the grafting skills. [Hnflw.gov.cn]
Zhengzhou Women's Federation (ZWF) in central China's Henan province has launched a series of initiatives in recent years to further reform work of women's federations and comprehensively improve women's overall well-being.
At the beginning of the year, ZWF launched a campaign to popularize legal knowledge and formed a professional publicity group to carry out activities in communities and villages.
Organizers have so far given 78 legal lectures and distributed 20,000 textbooks on laws and regulations, benefiting over 30,000 people.
In addition, ZWF has comprehensively launched five themed activities on the topics of family education, law popularization, parent-child reading, environmental protection and family health. These all reflected the concrete work carried out by local women's federations.
ZWF has made full use of its strengths to construct more civilized families and implement the Looking for the Most Beautiful Families campaign. It has selected 2,696 role model families and led people to follow family virtues.
The federation has produced over 980 touring lectures on family education, spread cultural traditions and vigorously popularized family education knowledge. These events benefited nearly 200,000 families.
ZWF has also implemented public welfare projects via the internet to benefit over 30,000 families and organized over 1,100 lectures and exhibitions on various family disciplines, reaching nearly 300,000 participants.
ZWF has set up a lecturers' group to spread law-related knowledge and held large-scale lectures at the grassroots level for over 130,000 people. It has guided people to respect, learn, believe in, abide by and follow the law, which has laid the foundation for the law-based governance of the city.
The federation has been selected as an Advanced Unit of National Law Publicity and Education.
Meanwhile, ZWF has actively launched a series of special reading and learning activities such as reading clubs to widely promote the topic among people in the province and build a learning-oriented society by highlighting women's role in leading their families to participate.
ZWF also focused on the ecological civilization construction. It has implemented the Green City Mother project to provide environmental protection services in 200 communities for two years and carry out relevant actions, implanting green concepts into the community.
Specifically, ZWF has held a Family Run event for three consecutive years, as well as a voluntary tree growing activity for 10 years. They also selected 1,169 families to commend green and ecological lifestyles.
Through special projects and activities, ZWF has successfully guided the majority of families to actively participate in eco-protection and construction practices, and promote the formation of green development methods and lifestyles.
ZWF has actively implemented a free project to screen the so-called "two cancers" (breast and cervical cancers) for urban and rural women over a period of nine years. A total of 2.55 million women have received the service.
The federation also launched prenatal screenings for birth defects and free screening programs for neonatal diseases for five consecutive years. A total of 550,000 pregnant women and nearly 600,000 newborn babies have received free check-ups.
In addition, ZWF has also successfully hosted the One Million Women's Fitness Competition to guide people to enhance their health awareness and enjoy a healthy life, in which 200,000 women participated.
(Source: Cnwomen.com.cn/ Translated and edited by Women of China)