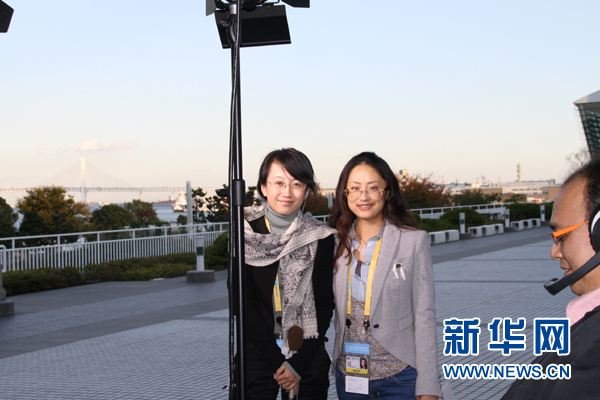 Female journalists [Xinhua]
The Hohhot Women's Federation (HWF), in north China's Inner Mongolia Autonomous Region, launched an unveiling ceremony for the first Female Journalists' Home center in the region, at the headquarter of Hohhot Daily on November 9.
At the center, one wall is decorated with pictures of women, showcasing their stories on the frontline of news reporting. In addition, the center includes a reading corner, coffee counter, and an area for workouts.
Wang Songyun, deputy director and senior editor of Inner Mongolia Radio and TV News Channel, said, "It is challenging for women to participate in this profession; they need understanding, support and the opportunity to relax. We are grateful to HWF for their concern towards us."
After the unveiling ceremony, Fan Ying, president of Inner Mongolia Innovation Education School, gave a special lecture on "Your Elegance Is Valueless" for gathered reporters.
Zhang Yanjie, secretary of the Party committee of Hohhot Daily, said "Female reporters are stationed at their news posts with sincerity, perseverance and courage. For this cause, they are selfless and have dedicated great efforts to their career.
"We are glad to work with HWF to build such a platform for journalists. We expect them to make even greater achievements," added Zhang.
Yun Yumei, president of HWF, recently attended the 12th National Women's Congress and was elected as a member of the executive committee of the All-China Women's Federation.
She shared her experience of participating in the meeting and conveyed the spirit of the important speech made by President Xi Jinping and the spirit of the Congress.
She said: "The news media is a long-term, close partner of women's federations. Female reporters have launched a variety of distinctive and specialized news reports of the hot and difficult issues of women's work; and, have made important contributions to the development of the city.
"In the future, we must further strengthen the contact and cooperation with various media units, actively improve conditions and provide better services for the media workers," said Yun.
(Source: Cnwomen.cn/ Translated and edited by Women of China)