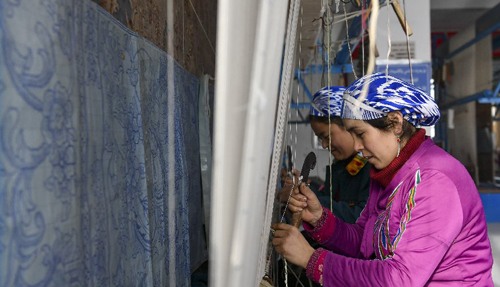 Female workers weave carpets in Xinjiang Nake Xiwan Handmade Carpet Development Co., Ltd. [China Women's News]
Locals in Hetian, northwest China's Xinjiang Uygur Autonomous Region, have found a new way of increasing their income through hand-woven carpets with help from different sides of society.
Hetian is known for its long history in carpet weaving at home and abroad. Guided by the government and led by rural carpet weaving experts, local farmers and herdsmen are now able to gain additional income from this craft, with the assistance of counterpart cities and provinces which are twinned to offer aid to Xinjiang.
Manual carpet making is a pillar industry of Hetian. Before 2010, however, most local companies failed to bring in much profit owing to their small scale and low efficiency.
Xinjiang Nake Xiwan Handmade Carpet Development Co., Ltd. is one of the local companies specializing in carpet weaving.
In 2008 when it was founded in a town of Hetian, it attracted over 30 women with no platform to give play to their carpet weaving skills. After receiving training, they earned an average monthly income of about 2,000 yuan.
A young woman surnamed Memtimin was one of the workers. She gained a stronger proficiency after studying and practicing for half a year.
"I earned no more than 100 yuan for one square meter of woolen carpet woven when I first joined the company, but now, I have learnt to weave high-quality carpet which brings me over 3,000 yuan each month," she said.
So far, the company has offered work opportunities to over 600 people, most of whom are minority women from impoverished families.
To ensure that they can strike a good balance between work and family, leaders of the company also run a day care center downstairs, where children are taken good care of by professional teachers.
In this way, these women can stay with their children during their work breaks.
After a new round of aid policy was introduced by the state, Beijing took responsibility for aiding Hetian and helped locals develop four traveling routes and took the above-mentioned carpet development company as an important platform for showcasing the handmade carpet culture of Hetian.
Thanks to financial support from the state, the company has achieved rapid development. It has set up seven branches in counties such as Moyu and Luopu, enlarged its workshop from over 60 square meters to over 12,000 square meters and increased its annual output to over 40,000 square meters of carpet.
Its products are sold to countries including Japan, the US and the UK, thereby increasing its production value to 20 million yuan.
The company has effectively driven the development of the local economy.
According to the general manager of the company, the company will set up branches in other provinces to enlarge its sales and show more people the traditional techniques of weaving carpet by hand.
Its expansion will also provide more work opportunities for minority women from impoverished families and increase their income.
Given that traditional handmade carpet needs further improvement to meet the diversified requirements of the market, the company launches a new pattern every two or three months with help from designers.
In addition, it has also constantly developed handmade carpet products, striving to establish a carpet culture base by dint of tourism.
This company is just an epitome of the employment driven by the carpet industry in Hetian. In recent years, more and more companies have sprung up in this area, thanks to support from the government.
These companies, both directly and indirectly, have brought over 10,000 jobs to local people.
(Source: Xinhua/Translated and edited by Women of China)