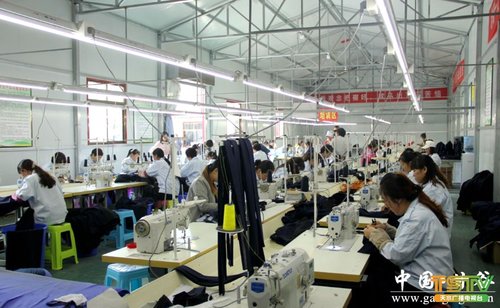 Women work in local poverty alleviation workshops. [gangu.gov.cn]
Women's federations at all levels in northwest China's Gansu Province have made a determined effort to promote the construction of poverty alleviation workshops this year, which have achieved significant results.
Officials organized an industrial poverty alleviation conference recently in Lanzhou, the capital city of Gansu. During the event, officials introduced the construction and development of poverty alleviation workshops.
In June, local officials held a promotion conference in the city of Qingyang. Tang Renjian, governor of Gansu and deputy secretary of Gansu Provincial Committee of the Communist Party of China (CPC), attended the event.
Tang said some new models, such as poverty alleviation workshops, should be promoted across the province so as to make concrete achievements in poverty alleviation work.
In July, the general office of Gansu provincial government released a special opinion on carrying out poverty alleviation.
The opinion defined that the so-called "poverty alleviation workshops" are processing workshops set up in rural areas which are mainly targeted at helping those impoverished people who have neither the skills nor the chances to work outside to find jobs in local workshops. Workers chiefly took charge of simple labor-intensive industries such as textile and agricultural products processing.
Gansu Women's Federation has paid close attention to the development of the hand knitting industry in recent years. With low standards and flexible work modes, the industry provided many people with work opportunities.
Many places across the province set up such workshops to help local impoverished women increase their incomes and shake off poverty.
In September, another promotion conference concerning the construction of poverty alleviation workshops was held in Gangu County, Tianshui city of Gansu province. The local government shared their working experiences for workshop construction and inspected workshops in the county.
At the event, staff from women's federations of four local counties and districts conducted further communication concerning how to organize skills training courses for women, how to support them to start their own businesses, and how to promote the construction of women's participation in poverty alleviation workshop.
The provincial women's federation integrated the activity of striving to be a female leader and striving to be advanced female group with the endeavor of constructing poverty alleviation workshops, calling for the coordinated effort of relevant organizations in striving for poverty alleviation.
As of October, the province has set up 263 workshops, 84 of which were established in 23 poverty-stricken counties. A total of 112 have been identified by local human resources and social security bureaus, whilst 80 percent of workers in factories are women.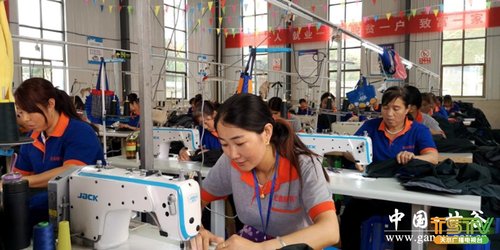 Women work in local workshops. [gangu.gov.cn]
Women work in local workshops. [gangu.gov.cn]
(Source: China Women's News/Translated and edited by Women of China)