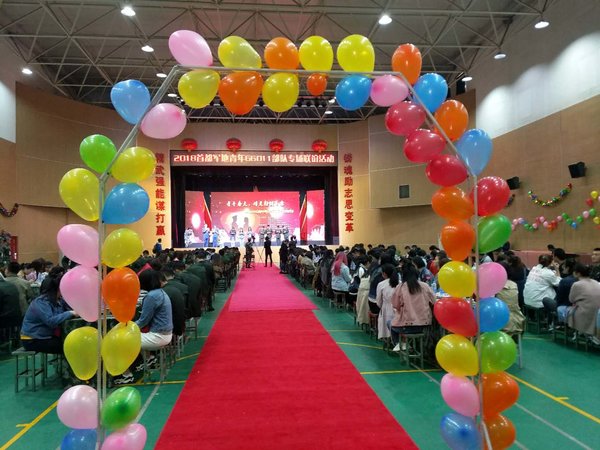 Participants at the blind-date gathering [Women of China/Zhang Jiamin]
A joint blind-date event in Beijing on April 15 drew the attendance of 120 unmarried soldiers and single people from local governmental departments and state-owned enterprises.
The blind-date event was co-sponsored by Beijing Women's Federation (BWF), Beijing Bureau of Civil Affairs, Beijing Military-Civilian Mutual Support Office and the Political Department at the Beijing Garrison of the Chinese People's Liberation Army (PLA).
It aims to meet the needs of singles from the army and civilians when it comes to dating and marriage, and hopes to promote the formation of a harmonious social environment in Beijing.
During the gathering, Zhao Lijun, Vice-President of the BWF, said that the mass organization has been tasked with building a platform for singles from the PLA and civilians to deepen their mutual understanding as well as offering them matchmaking and marriage-related services.
In addition, she extended her best wishes to all attending singles and encouraged them to convey their love to their ideal partners during interactions at the events.
Organizers held various interactive games to help them learn more about each other. Twenty-four couples of attendees were successfully paired at the end of the event.
So far, the BWF has worked together with the PLA Beijing Garrison to hold such event for 14 consecutive years.
Nearly 100,000 army and civilian singles enjoyed its dating and marriage services, and over 100 couples have tied the knot during the same period.
The BWF pledged at the event that it would organize more similar blind-date gatherings, provide counseling and guidance in dating and marriage, and serve as a bridge between the PLA and civilians in the future.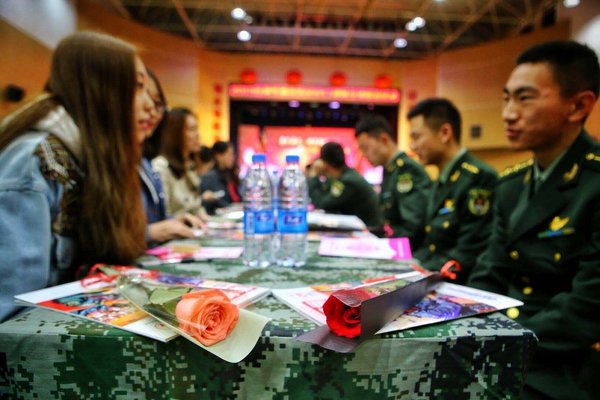 Unmarried PLA soldiers talk with their favorite partners at the blind-date gathering. [Women of China/Zhang Jiamin]
A man conveys his love to his ideal partner at the blind-date gathering. [Women of China/Zhang Jiamin]