Liu Wenjia, Song Yushui and Zhou Yu, share their understanding of the latest congress spirit. [WeChat Account of Beijing Normal University]
Beijing Normal University invited three professionals with different career backgrounds to share their understanding of the spirit of the 19th National Congress of Communist Party of China (CPC) on December 27.
The three women – namely, Song Yushui, Zhou Yu and Liu Wenjia – were each recent delegates to the Congress, and had previously been awarded the title of March 8th Red-Banner Pacesetter.
Over 200 college students from the university listened to the speeches.
Song Yushui
Song Yushui, part-time vice-president of the ACWF and vice-president of the Intellectual Property Court in Beijing, said the younger generation should maintain their firm ideals and convictions, aim high and keep their feet firmly on the ground.
When asked how she had balanced her career and family, Song replied that a positive attitude was important.
Song said, "When you are occupied by your work, you make full use of it to cultivate your children's independence. When you are at home, you can spend quality time with your family. It can be okay if you manage to handle the balance in a proper way."
When asked how she made plans for her education and career, Song answered, "I think college days are valuable. There, you can get professional training, so all students should try to learn as much as possible.
"For the career path, there are always some people who are not sure what they really like. But be confident that you will find your interest one day and that will be the new start of your career."
Zhou Yu
Zhou Yu, head and counselor of the English Department of Translation and Interpretation at the Ministry of Foreign Affairs, shared her understanding of the congress spirit from her experience and the view of diplomacy.
When asked how she manages her time, and if she still keeps her interests in her busy schedule, Zhou said, "Efficient time management is important. I like to read all kinds of books because the more you learn about a new field, the more eagerly you will want to study.
"I am also fond of doing physical exercise because it can keep me healthy to work and live."
A student asked Zhou Yu what skills or capabilities college students should master in her view.
Zhou said, "I'd suggest students learn beyond their majors and try to think in a more comprehensive way."
When asked for her view on different voices across the world towards China's culture and growth, Zhou said, "The idea of 'harmony but not uniformity' that is embedded in China's tradition inspires me to help more people know about the country. I think the diversity makes this world beautiful."
In answering the question of what inspired her to work so hard, Zhou said she would try to deal with everything seriously no matter if she likes it or not.
She said, "One needs to be curious about the unknown world, which will help him or her do things better because curiosity will give them courage."
Liu Wenjia
Liu Wenjia, deputy editor-in-chief of the commentary department of Guangming Daily News Agency and chief commentator of website gmw.cn, shared her understanding of the congress spirit based on her working experience in journalism.
Liu said, "The congress report is good material for youth to know about the past and the future of our nation."
A student asked Liu what basic abilities women should have in the new era.
Liu said, "First of all, be independent economically and intellectually. One should also be curious to explore the world and oneself.
"Besides, be concerned about others and that will help broaden your vision."
When Liu was asked why she worked so hard, she shared her memory of asking newly-starting media workers to think why they chose this industry.
"Working in the news industry cannot earn you much. So, there must be some faith to support you.
"The certainty that you are doing what you are doing for a great cause makes you who you are."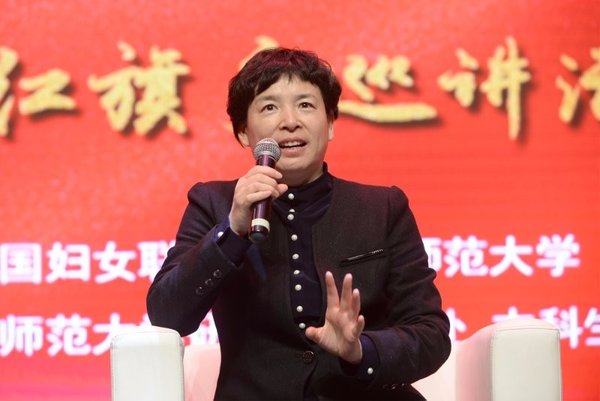 Song Yushui [WeChat Account of Beijing Normal University]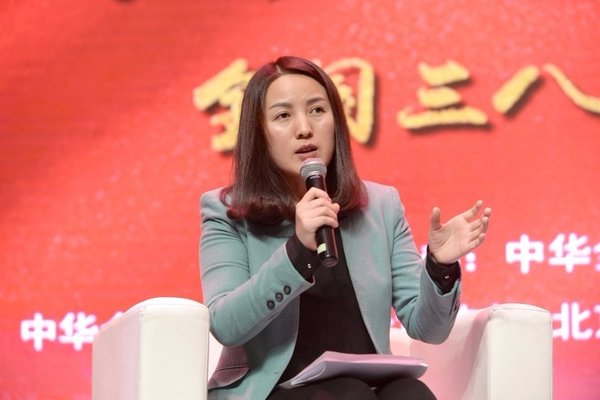 Liu Wenjia [WeChat Account of Beijing Normal University]
Zhou Yu [WeChat Account of Beijing Normal University]
College students attend the event. [WeChat Account of Beijing Normal University]
(Source: Women Voice& WeChat Account of Beijing Normal University/Translated and edited by Women of China)