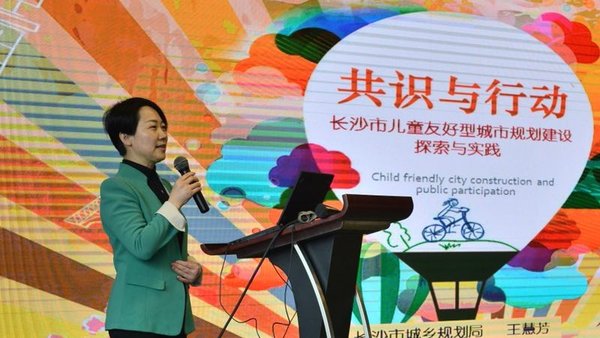 Wang Huifang gives a speech on the research and practices of Changsha in building a child-friendly city. [Women Voice]
The women planners' committee of China Association of City Planning (CACP) held its annual meeting on December 16 in the city of Shenzhen, south China's Guangdong Province.
The committee consists of female city planners from across the country, whilst the association aims to improve their capabilities and expand their influence in the industry.
As a group member of the All-China Women's Federation (ACWF), the committee also contributes to helping boost the living environment for Chinese women and children.
At the event, attendees learned about the latest remarks by Shen Yueyue, vice-chairperson of the Standing Committee of the National People's Congress and president of the ACWF, at a seminar.
Participants underscored the theme of the meeting, which this year was "Livable Cities and Happy Lives." The initiative was organized in line with the spirit of the 19th National Congress of the Communist Party of China.
Participants vowed to enhance their consciousness in terms of theory and action in implementing Xi Jinping Thought on Socialism with Chinese Characteristics for a New Era.
They further developed the concept of community-based public services for the seniors. In particular, they hoped elderly people can obtain services in regard to entertainment, transport, healthcare and education, all within a short walking distance.
Female urban designer Wang Huifang serves as vice-director of the Bureau of City Planning in Changsha, central China's Hunan Province.
City designers have started a research project to develop Changsha as a child-friendly city by 2050, according to the latest strategy, noted Wang.
For example, buildings which are close to schools have set up special pedestrian zones for students.
Moreover, in those areas, traffic lights have extended transfer periods for the safety of young students at peak school-related times.
The city has planned to recruit volunteers to help students cross the road.
So far, 10 pilot primary schools have carried out initiatives to protect youngsters from the perspective of city planning, said Wang.
Wang Liping is another female urban designer who serves as vice-director of the committee and director of City Planning Bureau in Ningbo, east China's Zhejiang Province.
She encouraged public participation into city planning so that the overall construction projects can better serve the interests of local residents.
Attendees at the seminar [Women Voice]
Participants pose for a group photo during the seminar. [Women Voice]
(Source: Women Voice/Translated and edited by Women of China)