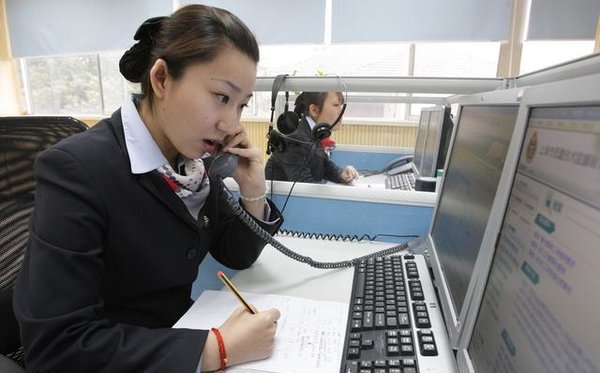 An operator receives a call at her workplace. [China Women's News]
Organizers of the 12338 hotline in north China's Hebei Province have been providing local women with services including legal aid, counseling, and family dispute mediation, every day of the year.
Women from across the province can seek assistance over the phone, even on weekends and holidays.
Early in 2012, local women's federations at and above county level began using the hotline under the guidance of Hebei Women's Federation in an effort to provide individuals in need with seamless services as instructed by the Hebei Provincial Committee of the Communist Party of China (CPC) and the Hebei Provincial People's Government in a circular.
According to Hebei Provisions on the Protection of Rights and Interests of Women, which took effect in September, local women's federations should extend their support to underprivileged women as specified in laws and formative documents.
In addition, local people's governments at various levels are urged to allocate a due share of their annual budgets to finance the protection of women's rights and interests.
The latest regional law is expected to secure sufficient funds for grassroots women's federations to conduct their day-to-day work, better regulate the operation of hotlines, and inspire them to offer the targeted population professional services in the future.
So far, the 12338 hotline has been composed of seven branches, through which both Hebei Women's Federation and Shijiazhuang Women's Federation can be reachable at any time of day.
Meanwhile, local women can find professional answers to questions about legal rules, anti-domestic violence, psychological concerns, marital and family affairs in their daily life.
Senior officials from Hebei Women's Federation spend time in answering calls from the public and talking with them on the morning of the 10th day of each month on a rotation system, with the aim of better meeting the needs of local women and winning recognition for women's federations' work.
(Source: China Women's News/Translated and edited by Women of China)