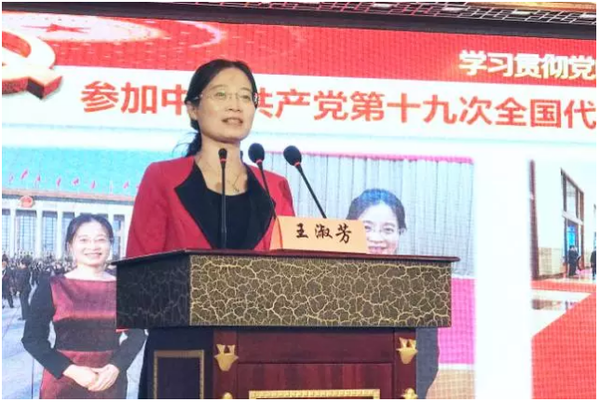 Wang Shufang gives a lecture during a publicity campaign in east China's Jiangsu Province. [China Women's News]
The first stop on a women-centered nationwide campaign to promote the latest spirit of the 19th National Congress of the Communist Party of China (CPC) took place from November 21-23 in the cities of Nantong and Zhangjiagang, east China's Jiangsu Province.
Launched by the All-China Women's Federation (ACWF) in an announcement on November 3, the campaign aims to organize hundreds of delegates to the Congress, officials from women's federations, and outstanding women to convey the main points and their understanding of the congress amongst grassroots women.
The scheme will take place across the country from early November till the Spring Festival, or the traditional Chinese Lunar New Year, in February 2018.
On October 18, on behalf of the 18th CPC Central Committee, General-Secretary Xi Jinping delivered the report titled Secure a decisive victory in building a moderately prosperous society in all respects and strive for the great success of socialism with Chinese characteristics for a new era at the opening ceremony of the 19th CPC National Congress in Beijing.
The invited lecturers in Nantong and Zhangjiagang included Wang Shufang, deputy-director of the Navigation Center of the China Transport Telecommunications and Information Center affiliated to the Ministry of Transport; Xue Ying, a worker from the AVIC Xi'an Aircraft Industry (Group); and Yu Xiaqiu, a village official and entrepreneur from Zhangjiagang.
Apart from being delegates, each of them had previously been awarded the title of National March 8th Red-Banner Pacesetter.
During her lecture on November 21 in a Nantong-based enterprise, Wang drew upon her own stories and professional experiences to interpret Xi's report regarding the further development of China's aerospace and transport industries.
The next day, Wang, Xue and Yu jointly engaged into a face-to-face talk with local residents at the village of Changjiang in Zhangjiagang, where Yu hails from and which has been reputed for its high-level civilization and economic prosperity. They spoke about the remarks announced by Xi in his report about the management of rural affairs, the cultivation of modern female grassroots workers featuring self-esteem, self-confidence and self-reliance, and the improvement of China's social security system.
The tour also brought them to a residential community in Nantong, where they joined local elderly people to sing songs about promoting core socialist values and patriotism, on November 21.
Xue Ying delivers a lecture during a publicity campaign in east China's Jiangsu Province. [China Women's News]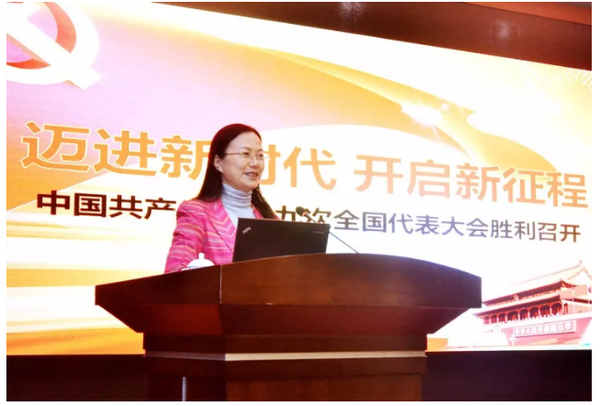 Yu Xiaqiu conveys the congress spirit during a publicity campaign in east China's Jiangsu Province. [China Women's News]
Participants at a lecture during a publicity campaign in east China's Jiangsu Province [China Women's News]
(Source: China Women's News/Translated and edited by Women of China)