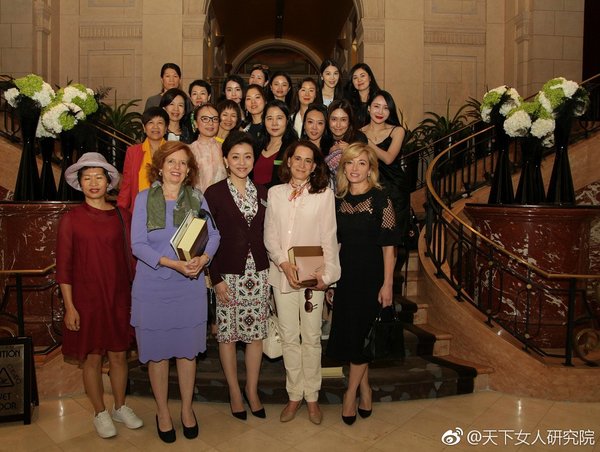 Yang Lan (Center,1st row) and students at Yale University [Her Village Academy]
The first ever batch of students to attend the one-year course at Her Village Academy in Beijing celebrated their graduation on October 16 at the city's Yale Center.
The academy was established in September last year by Yang Lan, a businesswoman and famous Chinese former TV presenter.
The academy's innovativecurricula involves improving leadership, happiness, vision and self-management as its main objectives, making it different from traditional higher education or commercial courses.
The students took 168 hours of lessons at the academy given by scholars and leaders from various fields, including: Daniela Rus, winner of the Nobel Prizefor economics; Yu Dan, a renowned Chinese scholar; professor Zhang Xichao; and many others.
As the president of the institute, Yang herself also taught and introduced Artificial Intelligence to her students, leading them to pay more attention to the technology.
Furthermore, in June last year, the graduates traveled to the U.S. where they studied leadership at Yale University, talked with outstanding female leaders in the country and exchanged family asset management experience with officers from the well-known firm Abacus&Associates.
After the one-year study, Yang said that she was proud to see the positive changes that have taken place among her students, who are now able to express their minds with confidence.
When asked about the original intention of founding the academy, Yang said, "The ratio of men and women engaged in works that needs lower skills is roughly equal.
"However, there are far few women who work as middle or senior executives in companies. An equal social environment is important, but we can't ignore women's self-improvement if we want to change this phenomenon.
"A survey that we made with Beijing Normal University says the top three factors that can influence women's happiness index are health, free time and expectations of their career.
"That is to say, contemporary women in the country focus more on the identification and improvement of self-values, and their future than ever before," she added.
Zhou Xiaoguang, a businesswoman and representative of the graduates, said: "It is learning that can make one young and beautiful. Study is not equal to pursuing a degree."
Xu Xiaoping, a famous investor, gave a speech at the event in which he shared his personal experience of studying overseas in his 30s, starting his business in his 40s and investing in his 60s.
Xu encouraged women to update their cognition and knowledge to reduce the fear of the unknowable future.
At the end of the ceremony, Yang gave her expectations to her students by quoting Gandhi: "Live as if you were to die tomorrow. Learn as if you were to live forever."
Zhou Xiaoguang gives a speech at the graduation ceremony. [Her Village Academy]
The students of Her Village Academy [Her Village Academy]
Yang Lan (L) presents a graduation certificate to a student. [Her Village Academy]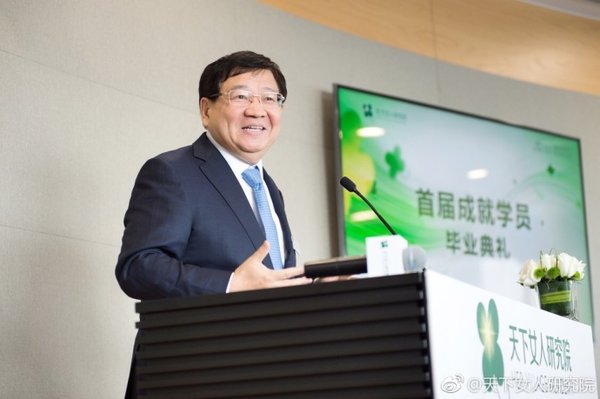 Xu Xiaoping gives a speech. [Her Village Academy]
(Women of China)