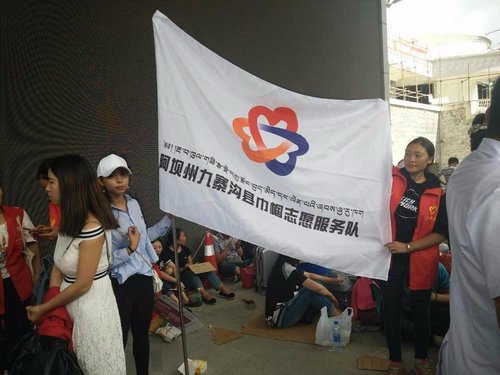 Female volunteers take part in rescue and relief work in Jiuzhaigou County. [Women Voice]
Women's federations at all levels in southwest China's Sichuan Province have rapidly responded after a 7.0-magnitude earthquake, which left 13 dead and 175 injured, struck a local mountainous region Tuesday night.
The quake zone, in Jiuzhaigou County in the province's Aba Tibetan and Qiang Autonomous Prefecture, is a popular tourist destination.
Shen Yueyue, vice-chairperson of the Standing Committee of the National People's Congress and president of the All-China Women's Federation (ACWF), and Song Xiuyan, vice-president and first member of the Secretariat of the federation, each made a phone call to president of Sichuan Women's Federation Wu Xu, inquiring about the conditions of the disaster and the situation of women and children in the affected areas.
Shen and Song instructed local women's federations at different levels to "follow the overall arrangement of local governments; make full use of the organization's advantages; and, actively take part in the rescue and relief work on the front line."
Aba Women's Federation has established rescue teams which are under the unified deployment of the prefecture-level rescue and relief headquarters.
Under the leadership of the local government, president of Jiuzhaigou Women's Federation Xu Lan was busy undertaking and coordinating rescue work at the quake-relief headquarters.
Xu was mainly in charge of registering social organizations and volunteers coming to help; arranging the transport of relief materials; overseeing the establishment of consulting stations in townships on the way to the disaster-hit area; and, helping disperse tourists.
Hongyuan County Women's Federation has organized female volunteers to actively take part in the evacuation of tourists.
Women's federations in the nearby counties of Songpan and Ruo'ergai are ready to carry out related post-disaster work at any time according to the unified arrangement of local government.
Women's federations of the Beichuan Qiang Autonomous County and Pingwu County near the city of Mianyang have organized female volunteers to distribute bottled water as evacuated residents are passing through.
Statistics issued by authorities show over 35,000 tourists are still in Zhangzha Town in Jiuzhaigou County. Operations to disperse them are in full swing and all tourists are expected to be dispersed by 18:00 at August 9.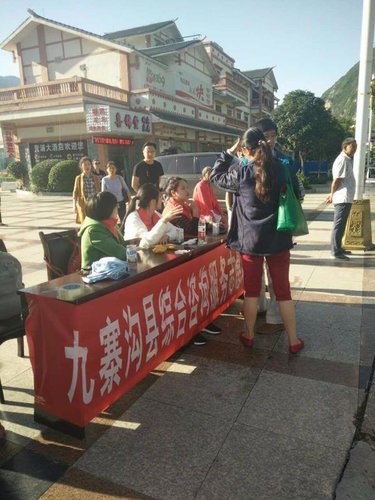 Female volunteers serve at a consulting station in Jiuzhaigou County. [Women Voice]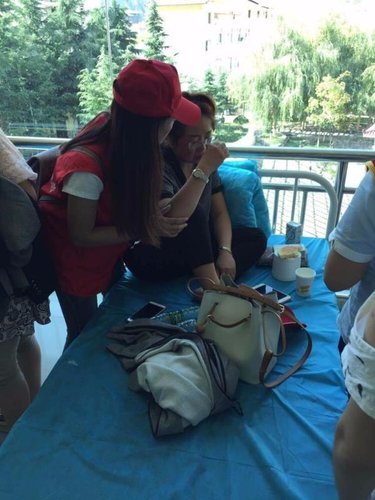 A female volunteer serves in Jiuzhaigou County. [Women Voice]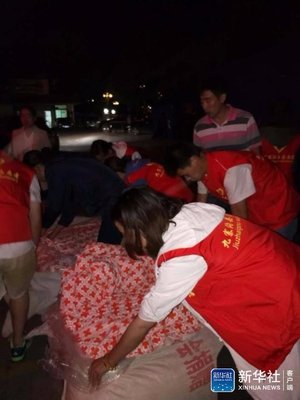 Volunteers carry relief materials. [Xinhua]
Volunteers distribute water to locals. [Women Voice]
Buildings damaged by earthquake in Jiuzhaigou County [Weibo]